How Web3 can support adolescent well-being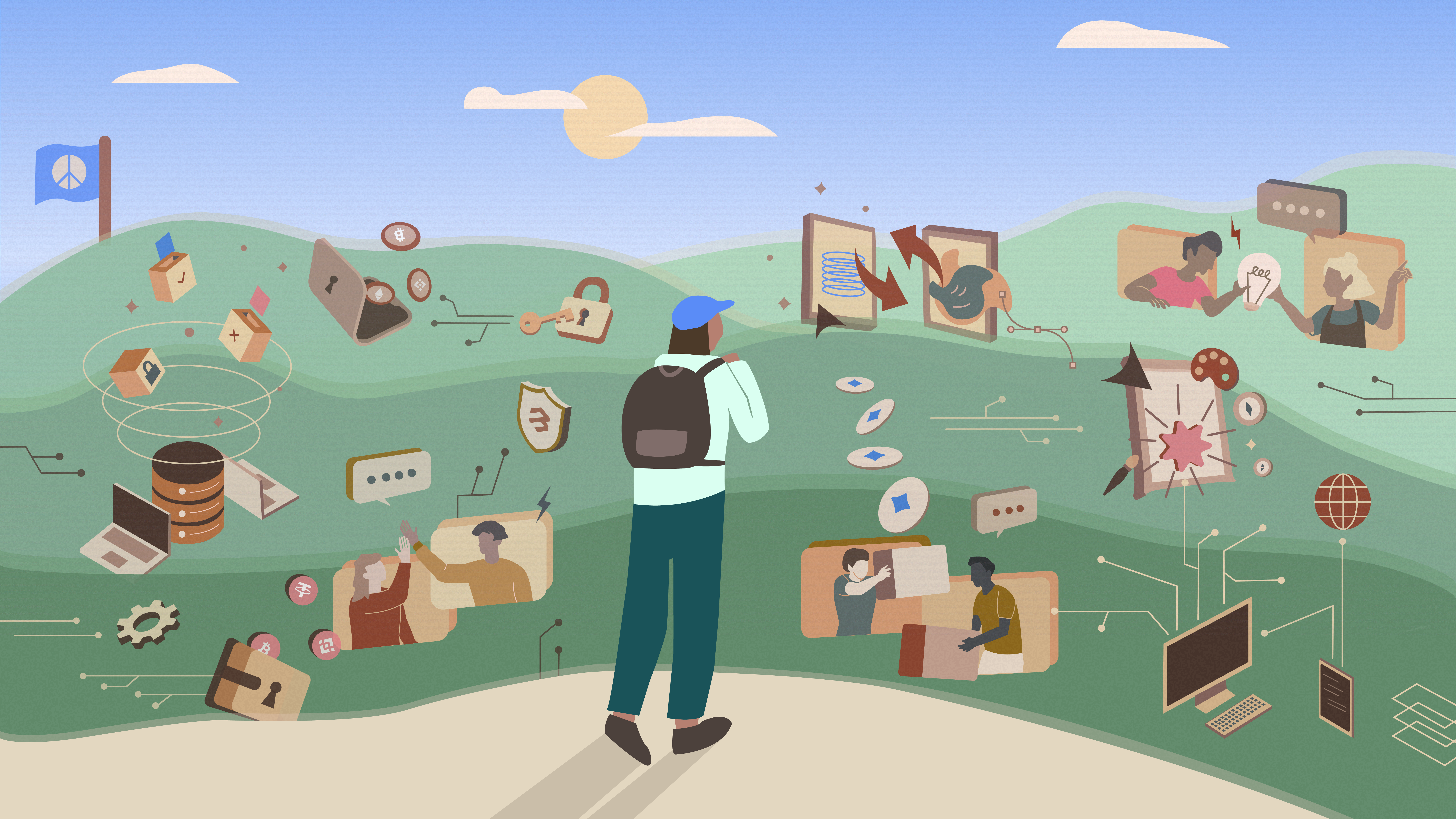 "…you don't even have to connect to a person in real life, but you still feel connected."
– Laya, 15 year old NFT Artist
---
Developing Skills and Earning a Livelihood
Whether it's NFTs, Web3 or AI, the rapid evolution of technology can offer opportunities for users of all ages, but young people – who spend so much of their time online – have a unique relationship with these emerging tools. And, despite what many think, adolescents are already using these emerging technologies to improve their well-being at a time where the mere existence and lived experiences of BIPOC and LGBTQ+ youth, especially, are under attack.
Take 13-year-old digital artist Laya Mathikshara from Chennai, India, for example. In May 2021, as a neophyte in the world of digital art, she sold her first NFT.
Her animated artwork titled What if, Moon had life? depicted an active core of the Moon gurgling. Inspired by the distance between the Earth and the Moon (384,400 km), Laya listed the reserve price as 0.384400 ETH (Ethereum) on Foundation, a platform that enables creators to monetize their work using blockchain technology. It caught the eye of Melvin, co-founder of the NFT Malayali Community, who placed a bid and collected her first artwork for 0.39 ETH ($1,572 at the time).
After the sale, and the success of subsequent NFTs, Laya – now 15 years old – decided to make digital art her career. With Web3, a collector of her art introduced her to other artists, who she felt inspired to support through Ethereum donations. It "feels amazing to help people and contribute. The feeling is awesome," she says.
"I started with nothing to be honest," says Laya, "with zero knowledge about digital art itself. So I learned digital art [in parallel to] NFTs because I had been into traditional art [when I was younger]."

Supporting Key Developmental Assets to Wellbeing
Knowing that young people spend much of their unstructured time online, that digital wellness is a distinct concern for Gen Z, and that the technology landscape is rapidly changing, Artefact partnered with Hopelab to conduct an exploratory study to understand their experiences with emerging technology platforms – ones largely enabled by Web3 technologies like blockchain, smart contracts, and DAOs (decentralized autonomous organizations). The organizations were particularly interested in how these technologies might contribute to a wide spectrum of developmental assets to improve the well-being of young people.
Our study found that Web3 can support youth wellness because it is built on values such as ownership, validation, and community that link to developmental assets like agency and belonging. These values are fundamentally different from the values of Web 2, a technology operating on business models that monetize our attention and personal data.
Awareness and usage of Web3 technologies is already high among Gen Zers, with 55% in the U.S. claiming to understand the concept of Web3. Twenty-nine percent have owned or traded a cryptocurrency and 22% have owned or traded an NFT. Importantly, Gen Z believes these technologies are more than a fad: 62% are confident that DAOs will improve how companies are run in the future.
Having grown up with multiple compounding stressors including climate change, a global pandemic, and political unrest, some Gen Z find appeal in Web3's potential to create what you want, own what you make, support yourself, and change the world.
With Web3, young people are experimenting with their interests and identities, creating art and music, accumulating wealth, consuming and sharing opinions, forming communities, and supporting causes that deeply resonate with them.
Victor Langlois and LATASHÁ, visual and musical artists, respectively, each represent the diversity that is important to our organizations, and have made real income at a young age through NFTs. Likewise, World of Women, a community of creators and collectors believe representation and inclusion should be built into the foundation of Web3, while UkraineDAO seeks to raise money to support Ukraine.
Aligning with GenZ Values
The gateway to Web3 for youth has commonly been through media hype, celebrity fanfare, and video games. Youth we spoke to were all skeptical, at least at first. Laya says, "I thought it was some cyber magical money or something. It just didn't feel real." After learning how to use the technology to create assets themselves and even make money via NFTs without a bank account, they began to invest more time experimenting with the tech and consuming content.
These experiences are not without challenges, of course. Young people in our study shared that they need to spend a lot of time learning about the ever-evolving space and building connections to stay relevant. The financial ups and downs are more extreme than the stock market, along with the potential for major losses at the hands of scammers or platform vulnerabilities. Like Web2, there is pressure to be endlessly plugged into the constant news, with social capital to be gained by being consistently online. Some of society's broader social issues also permeate Web3 spaces: racist NFTs and communities abound.
Despite these challenges, there is genuine excitement for a new internet built on Gen Z's core values. Several youth shared how DAOs are flipping organizational norms, where hierarchy and experience no longer determine whether your idea takes hold. Web3 technologies are giving youth an opportunity to start careers that weren't previously viable, find new audiences and fanbases, create financial independence, detach from untrustworthy platforms, and find and contribute to caring communities – all while building their creativity, socioemotional, and critical thinking skills online.
These experiences are helping Gen Z feel a strong sense of belonging as they find communities and causes they care about. In the words of one of our interviewees, Web3 offers a "new and shiny" way to "do good in the world." The experiences are more accessible – and specific to them – and the decentralized nature of Web3 means that creators and the public, not big tech or its algorithms, get to determine what is current and relevant. This is especially important for creators from groups that have been excluded from power because of their race, ethnicity, gender, or orientation. One participant shared how empowering it was to no longer be at the whim of social media platforms that may make design changes that erase your content, user base, or searchability overnight.
Like any other technology, Web3 and its components can have positive and negative impacts, but its fundamental tenets mean that we will likely see promising innovations and experiences that can support young people to find agency and belonging.
"We are all decentralized for the most part," says Laya. "And the fun fact is, I have not met many of my Indian friends…I haven't met folks in the U.S. or any other countries for that matter… you don't even have to connect to a person in real life, but you still feel connected."
---
Neeti Sanyal is VP at Artefact, a design firm that works in the areas of health care, education, and technology.
Jaspal Sandhu is Executive Vice President at Hopelab, a social innovation lab and impact investor at the intersection of tech and youth mental health.