Tangerine Forward
Banking Experience
Reimagining online banking for 2.2 million people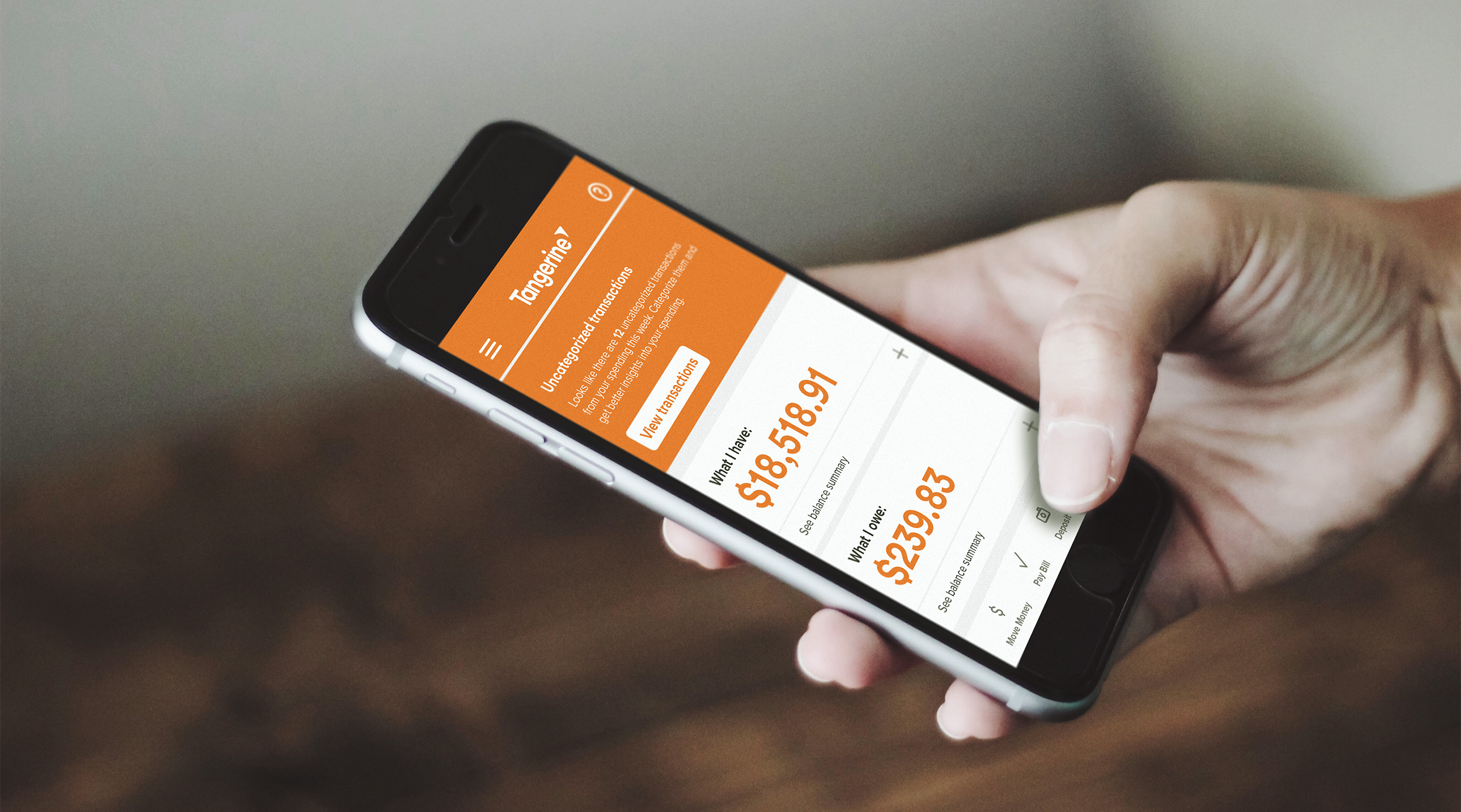 Transforming the
banking experience at scale
Transform Tangerine's banking experience into a powerful, sophisticated, and friendly digital financial ecosystem to help Canadians make smart decisions with their money and meet their banking goals.
A complete design system and roadmap to reflect Tangerine's Forward Banking philosophy across a new suite of digital banking features, including a refreshed brand, responsive website and new mobile app.

A 50-percent increase in new clients with more than one product when they onboard. Canada's highest overall client satisfaction rating among mid-sized banks and second-highest satisfaction rate for credit card mobile apps, according to J.D. Power.

"I was very impressed by Artefact's creativity, open-mindedness, and ability to think in abstract ways. Your work was much appreciated and valued in helping us develop the client-centric Forward Banking experience we are pleased to provide today."
Simplifying everyday
banking
Tangerine sees money differently. The Scotiabank subsidiary is an online-only direct bank with innovation at its core. Tangerine was previously known primarily as a savings and investment institution, but through this work has evolved to become a preferred everyday bank for Canadians. Beyond their mission of simplifying daily banking, Tangerine is dedicated to helping people make better financial decisions that increase their long-term wealth.
We joined forces with Tangerine to help evolve their platforms, elevate and expand their brand, and develop a suite of innovative digital banking features that set Tangerine apart as the bank that empowers you to take charge of your financial future, every day.
Transforming how clients engage with banks
Forward Banking reimagines and personalizes the client's complete financial journey, from initial onboarding and everyday bill paying, to long-term goal setting and adopting additional banking products.
We turned Tangerine's vision and strategy for the future of banking into features that their team could ship, develop, and use to rebuild Tangerine's entire banking experience.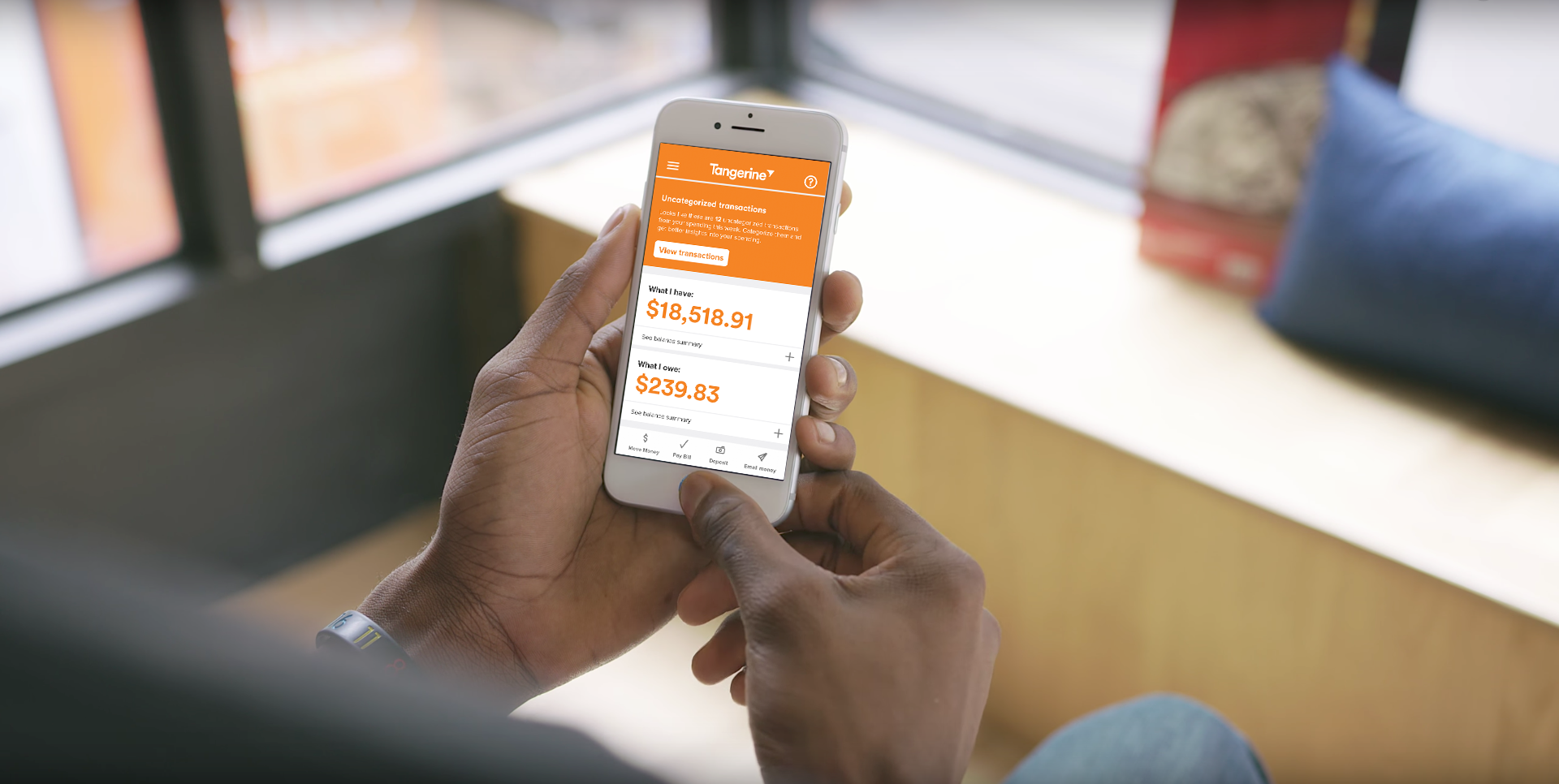 48 features.
1,600 screen designs.
1 Forward Banking experience.

Empowered, educated clients are central to Tangerine's philosophy. All 48 features developed for the Forward Banking experience are designed to help people make smart decisions with their money every day through personalized insights, better budgeting tools, and easy-to-use transactional features.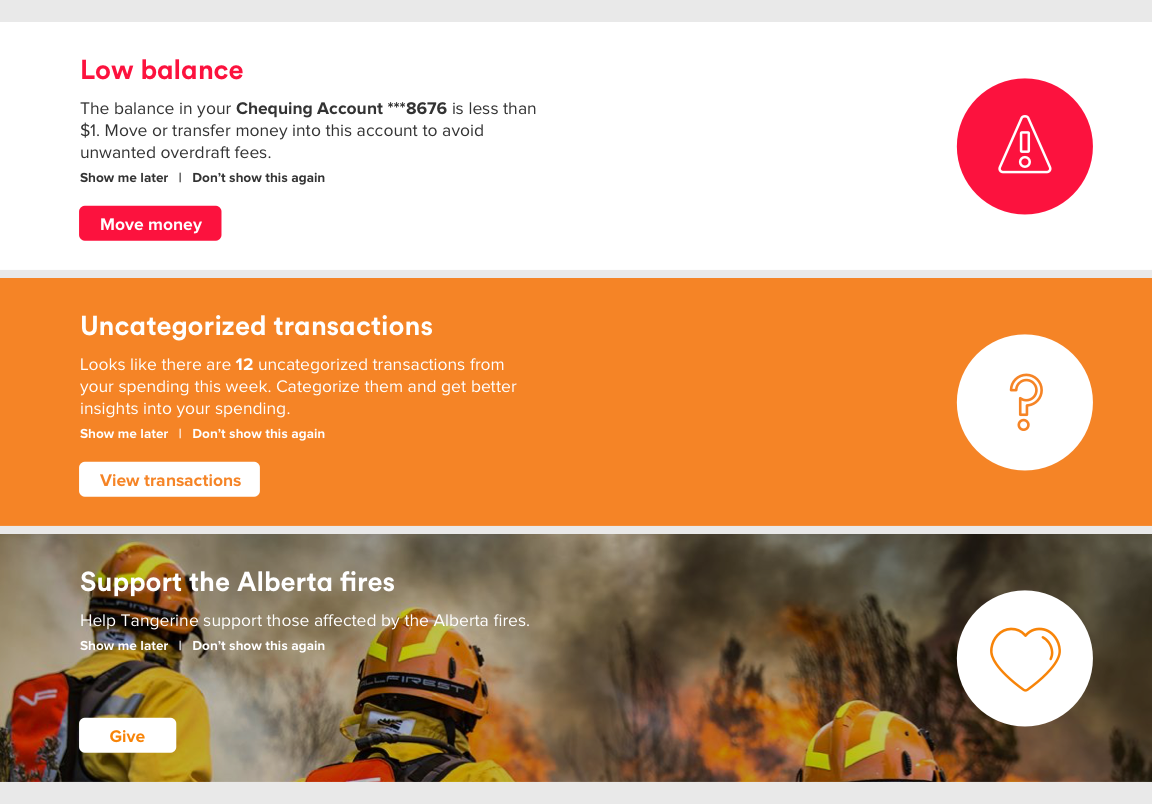 Insights

Insights provides actionable notifications about accounts delivered in a timely and contextual manner. From low balance alerts and task reminders to helpful hints on improving spending habits and achievement milestones, Insights tailors the banking experience to clients' specific needs.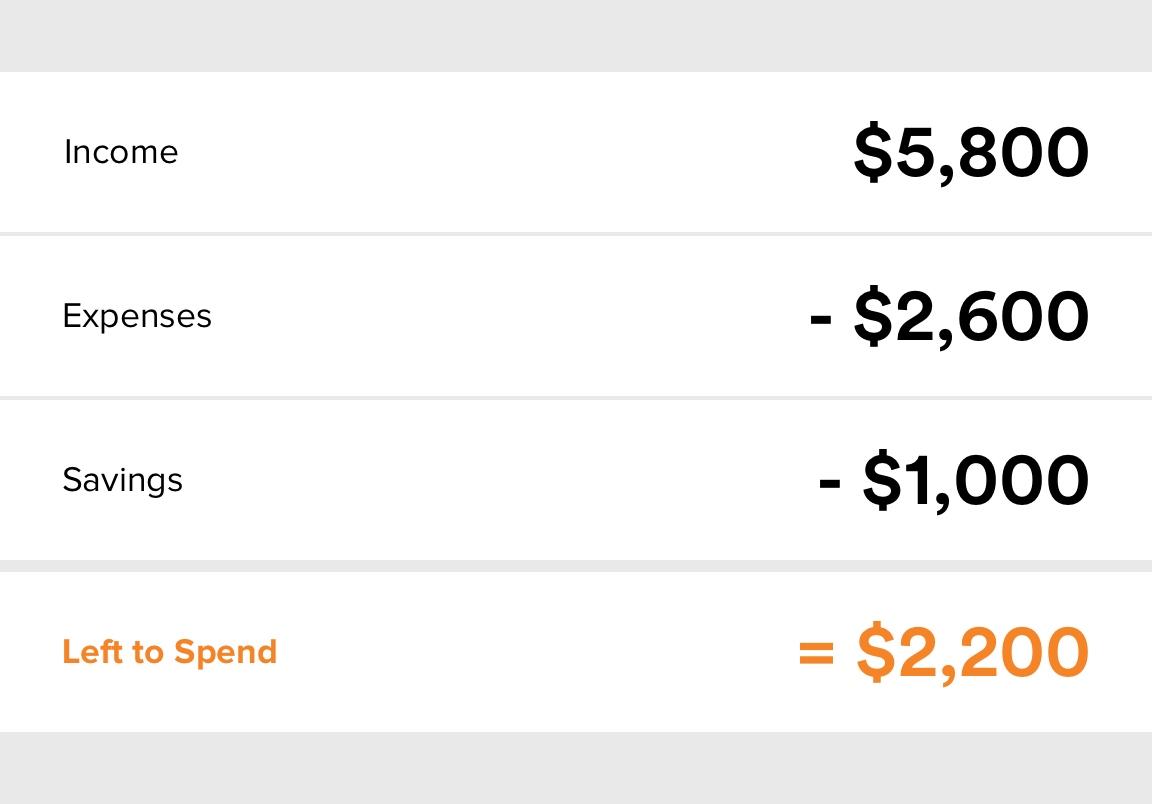 Left to Spend

Create a personalized budget and stay on track with real-time data. Forward Banking uses a client's transaction history to generate a bespoke daily, weekly, or monthly budget. Clients can see if they're on track at a glance, and how much they have left to spend to continue meeting their goals.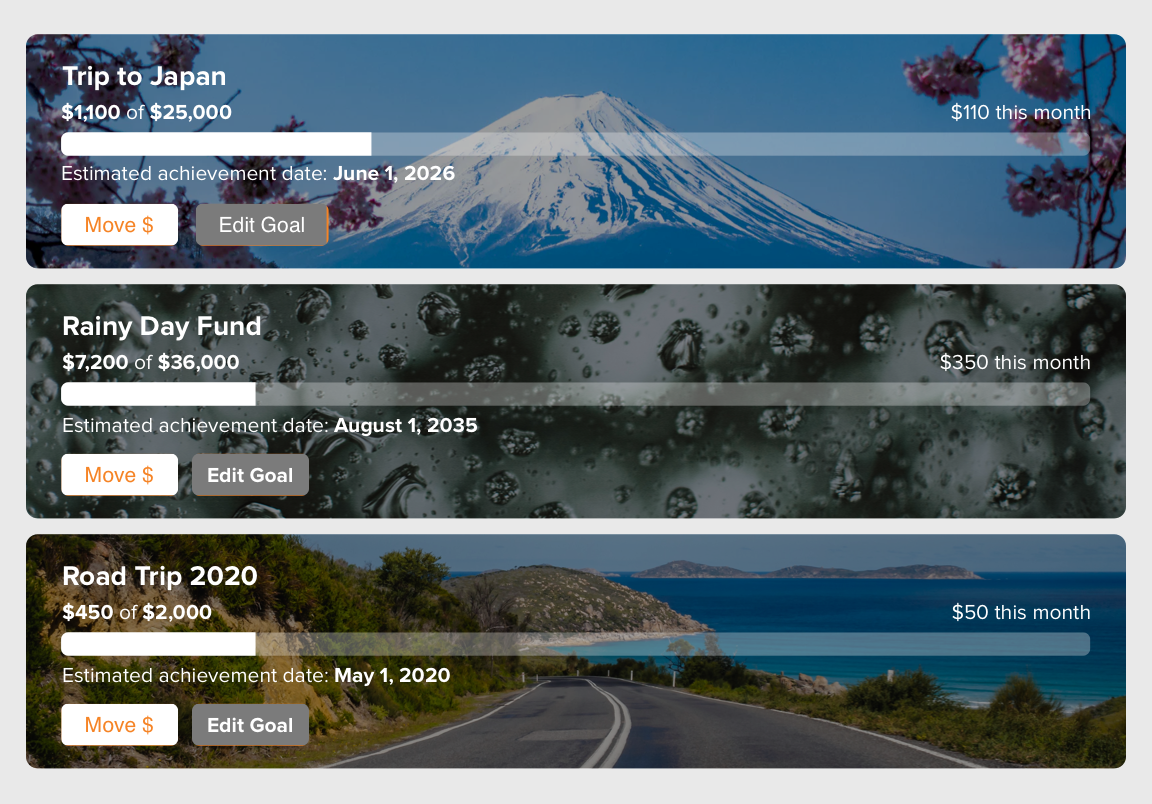 Goals + Progress

Easily set financial goals, track progress, and explore impact. We applied principles of behavioral economics to the goal-setting feature, such as a sliding scale that helps clients easily visualize trade-offs and impact, encouraging better financial habits.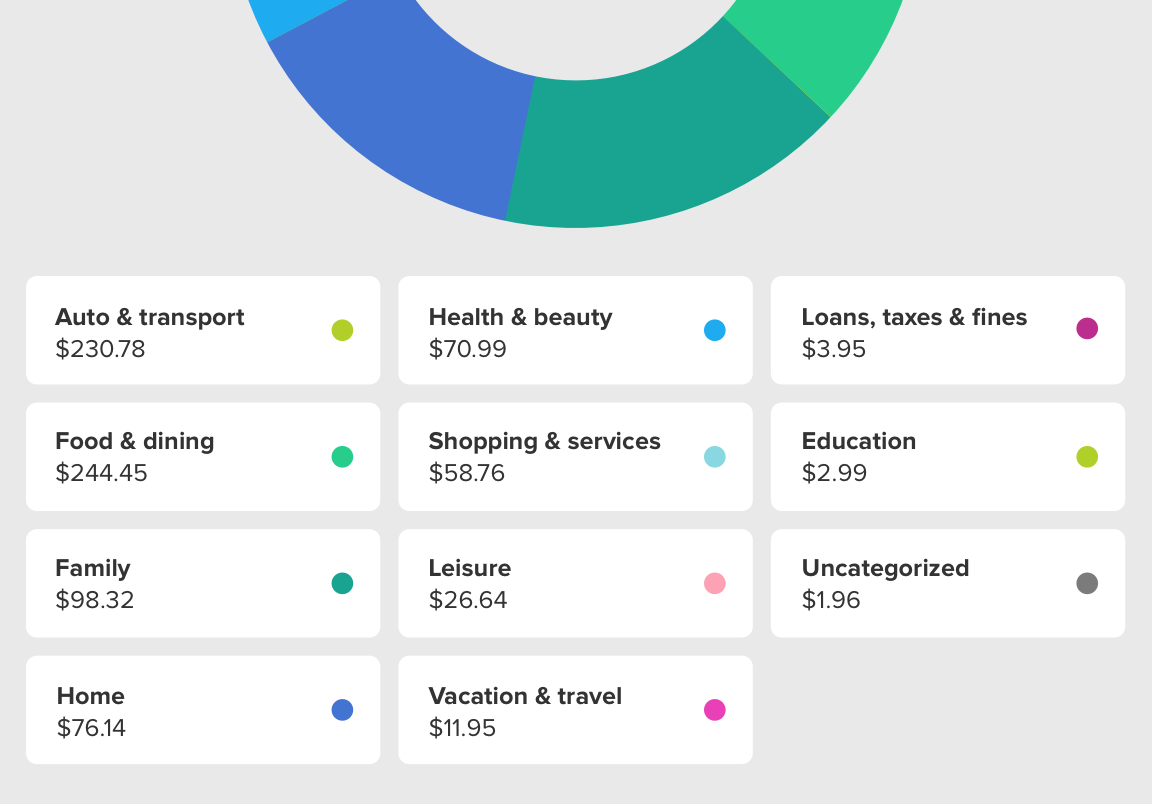 Transaction categorization

Transactions are categorized and displayed in clear visualizations to help clients understand their financial habits and behaviors. Whether clients want to dive into spending on a particular day or see an overview of top spending categories, the controls are at their fingertips.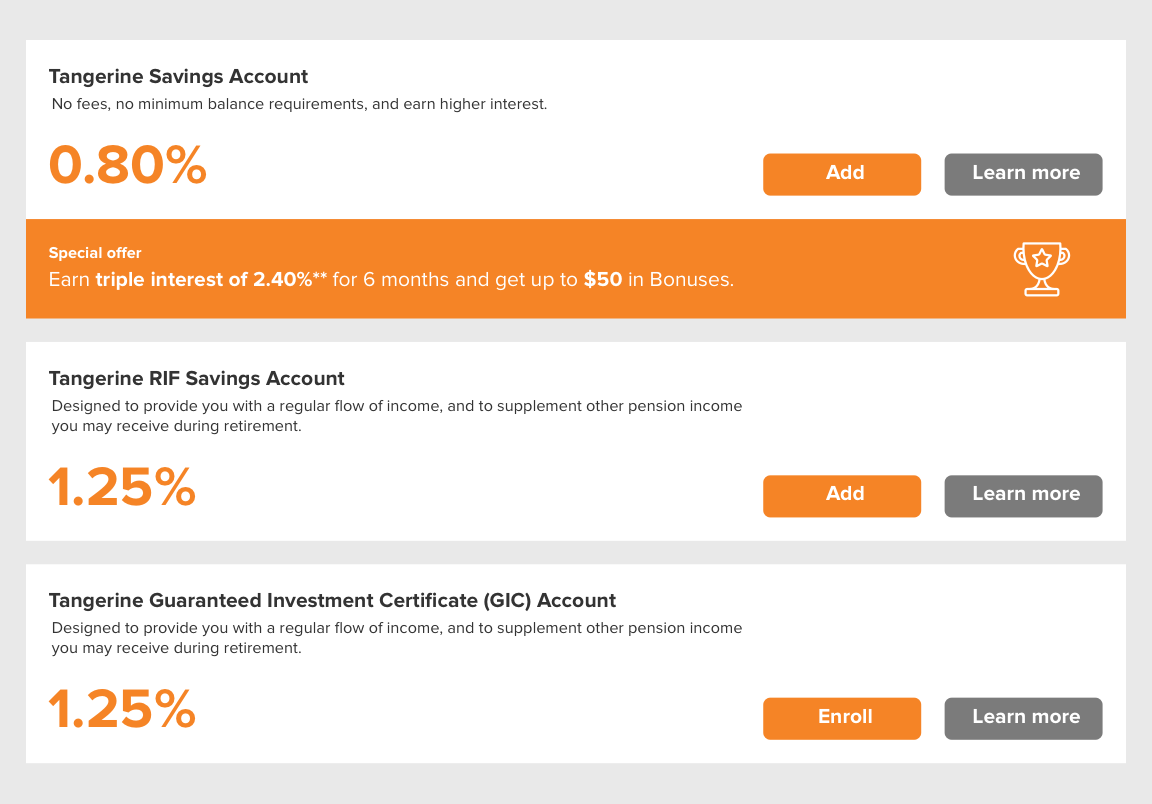 Onboarding + Basket Page

A familiar, e-commerce-style shopping cart experience for signing up for new products and accounts. In contrast to traditional banks, where each new account requires a separate sign-up, Forward Banking offers a streamlined and digestible enrollment experience.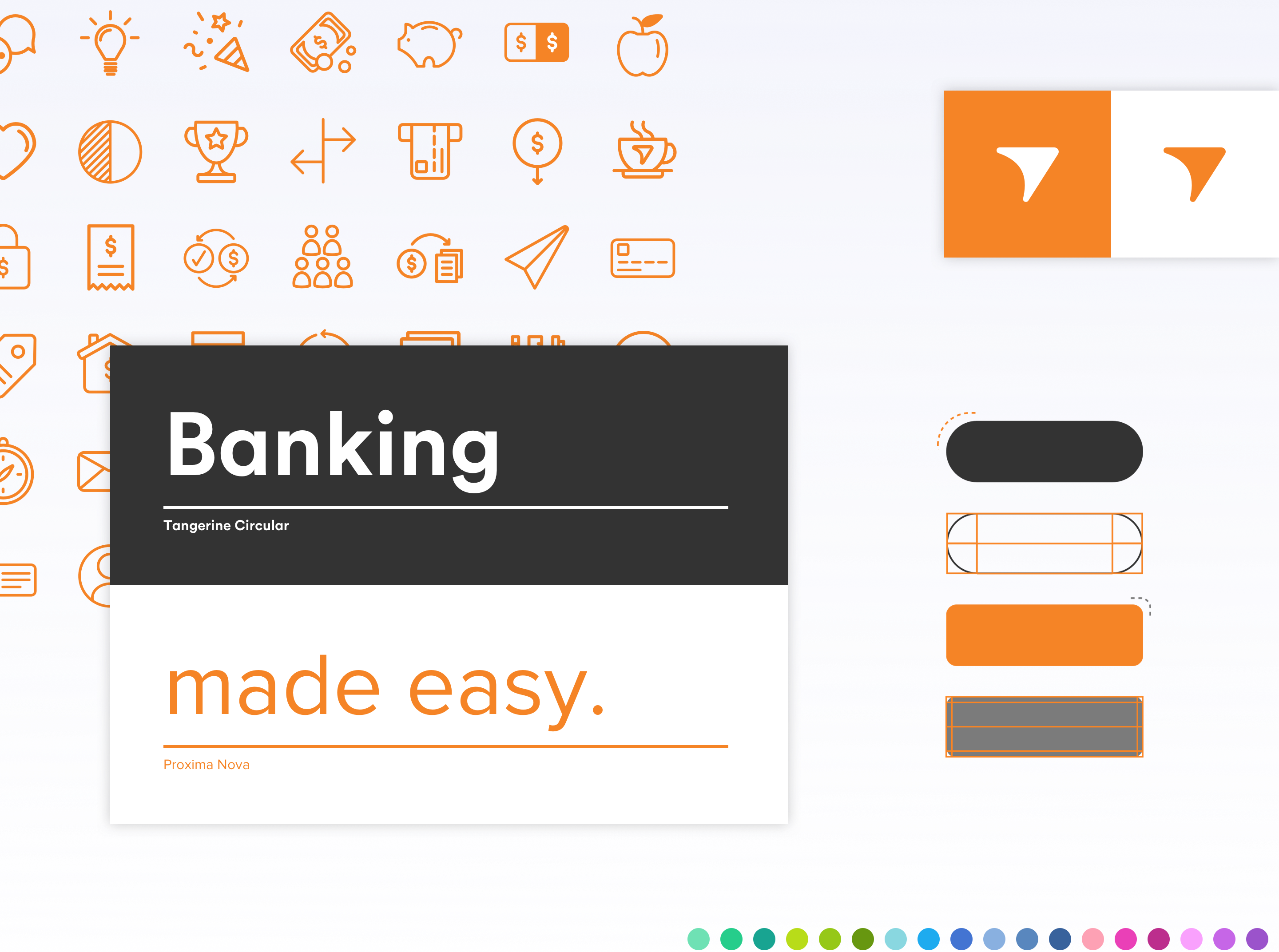 A confident, unified experience
Trust is fundamental to banking. We helped Tangerine communicate their credibility and maturity with a refined design system of brand, visual guidelines and user interface patterns. From icons and typography to navigation, modals, charts and tables, the result was a clean, modern, and radically simplified banking experience.
We then integrated their online banking platforms – the visitor's site, secure site, and mobile app – into one consistent, seamless experience across all products, platforms and devices.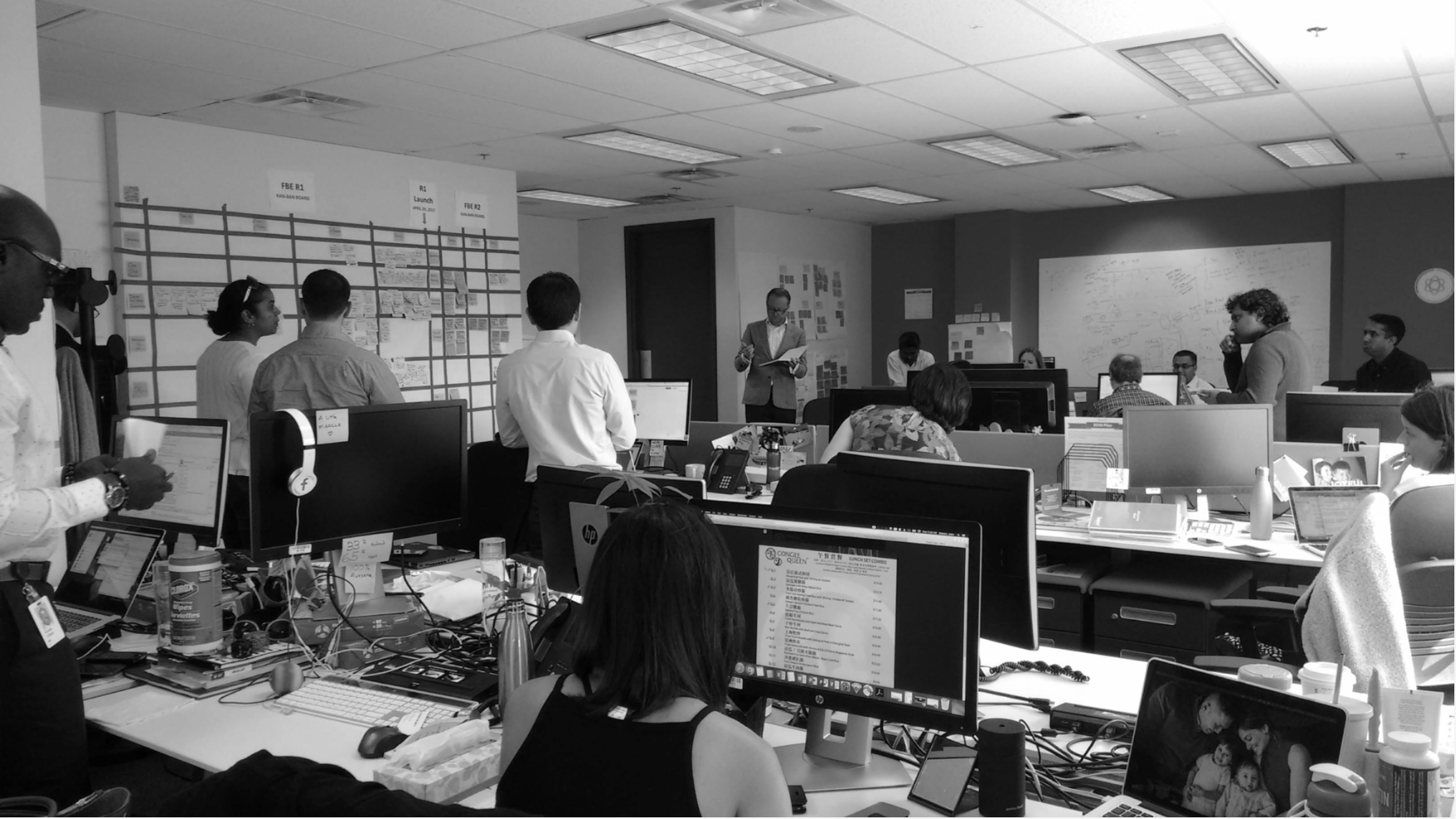 Setting the stage for future growth
Artefact worked closely with more than 150 members of Tangerine's team across our three-year partnership, strengthening internal design capabilities to ensure Tangerine has the design processes, methods, and tools to build on their success.
We helped Tangerine cultivate a design team, organize around a cohesive design system, and understand the latest design process innovations. Together, we created guidelines for implementing new features, products, and components within the design system to support more efficient team collaboration and future platform scalability and expansion.
We couldn't be prouder of what we've achieved together and what lies ahead for Tangerine Forward Banking.
What we delivered
+ Generative research
+ Foresight
+ Concept envisioning
+ Strategic assessment
+ Experience design
+ Evaluative research