Defining opportunities that promote youth well-being in digital spaces
Centering youth voices to foster opportunities that promote mental health
The Challenge
The tech landscape is rapidly evolving, with the metaverse and web3 redefining the social spaces in which young people carry out their online lives. Hopelab, a social innovation lab and impact investor, wanted to explore how it may influence, design, and invest in these spaces to support youth in their mental health and well-being, particularly those from BIPOC and LGBTQ+ communities. Hopelab engaged with Artefact to understand the current and future state of web3 and the metaverse to uncover actionable areas of opportunity Hopelab can readily act upon.
The Outcome
We created a comprehensive set of principles and opportunity areas that informed Hopelab's strategy aimed at influencing and activating emerging technologies in support of youth well-being. Our research with subject matter experts, youth advocates, and creators clarified what young people are experiencing online and resulted in six principles describing what youth want in a better tech future. We also conducted several co-design workshops with Hopelab teams to create alignment on the key opportunities for partnership with organizations at the frontlines of creating equity in digital spaces.
Gen Z activity, by the numbers
Nationwide surveys showcase how Gen Z youth are already engaging with metaverses and web3 assets. Compared to millenials, Gen Z is almost equally enthusiastic about the metaverse and web3.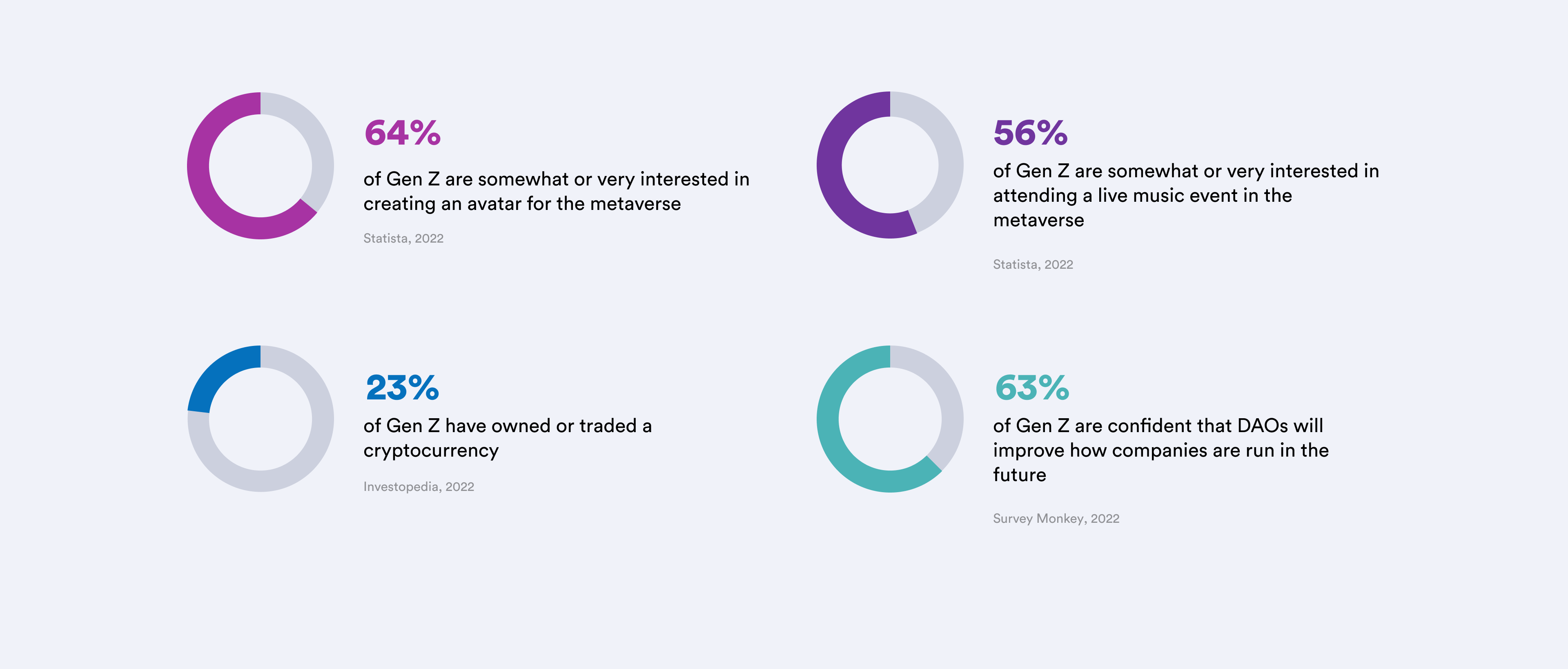 Seeing the metaverse and web3 as a force for good
A key question Hopelab posed is whether the metaverse and web3 will exacerbate the harms youth already experience on the internet today or whether things might be different. It's undeniable that the metaverse and web3 will host a series of dark activity, such as bad actors, extreme content, echo chambers, privacy breaches, and surveillance capitalism, all issues that proliferate on today's internet. In fact, the immersive nature of the metaverse may make some harms more acute and traumatic. Furthermore, the volatility of digital currencies can cause financial distress, leaving those who invested more vulnerable to market crashes, like content creators or small businesses.
And yet, there is reason for hope. The metaverse and web3 offer new and exciting opportunities for youth to gather, play, experiment, exchange ideas, and create. All of which are critical developmental assets for adolescents that promote wellness and the ability to thrive. Well-being is supported through rich social experiences on platforms like Fortnite and Roblox. And on web3, young people are starting careers that weren't previously viable, finding new audiences and fanbases, creating financial independence, and finding and contributing to caring communities. Communities are engaging in these spaces while building their creativity, socioemotional, and critical thinking skills online.
With this context in mind, we focused our research on how best to mitigate the harms of these technologies and build technology that supports youth mental health and well-being as a force for good. Our research and strategy process combined expert voices alongside youth advocates and BIPOC LGBTQ+ artists to gather a holistic perspective on impact, ethics, responsibilities, and initiatives.
"For the average youth, there's probably a lot of benefits to [these emerging technologies], and they may not feel so much of the downside. But there are vulnerable populations whose lives are horribly impacted in a very negative way, so it's pluses and minuses. The average kid's going to get through this and probably find a number of benefits, but we have vulnerable populations and they're going to struggle with this."

Emerging tech will create positive and negative impacts on four critical components of youth well-being.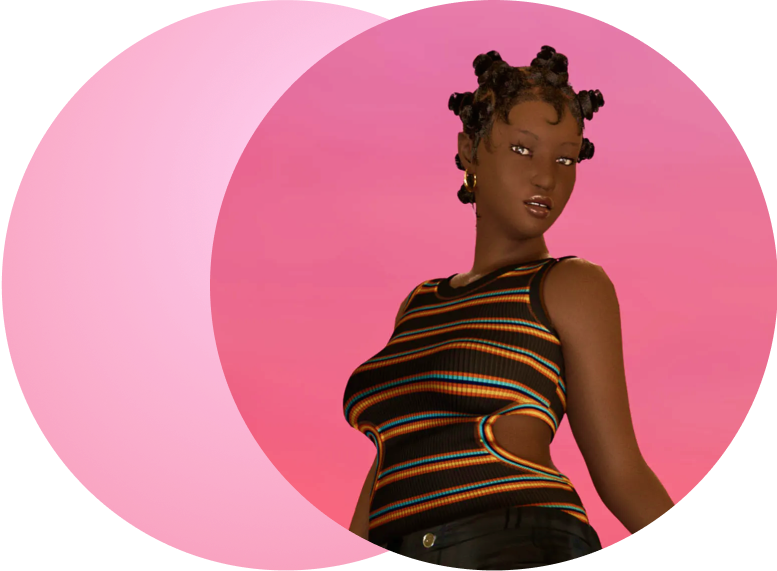 Identity & Self Sufficiency
The ability for youth to explore self-expression and gain financial independence are promising aspects of the metaverse and web3, but unfortunately is still not a reality for most. Avatars create a sense of psychological safety for youth to experiment and play with their identities, but manifesting avatars through VR can also lead to more embodied experiences of online harassment of bullying. In the same manner, web3 technology promise financial independence and data ownership for the creator economy, but also compounds pressure to perform and may be a more challenging space to enter for creators with smaller audiences.
Image Credit: Idoru
Youth are forming relationships and communities online that mean as much to them as those formed in real life. Both the metaverse and web3 offer different social interactions and affordances, broadening the possibility for richer engagement and more diverse communities to form. There is hope that these technologies can develop our socioemotional skills and teach empathy. At the same time, negative experiences online are greatly upsetting and isolating and some metaverse spaces, especially those accessed by VR, could exacerbate this as the metaverse draws us further into the digital realm.
Image Credit: Fortnite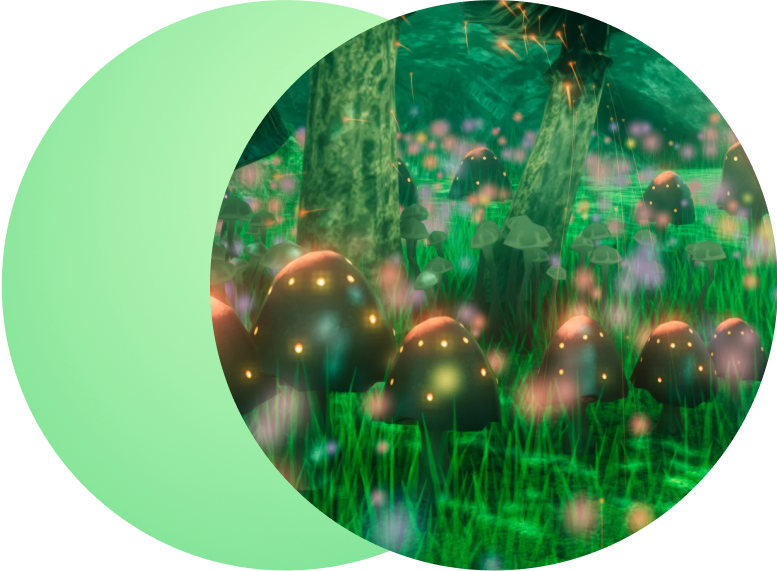 There are exciting new applications in the metaverse that can support our need to take breaks and find a moment of calm. But experts are concerned that this tech will further draw us in, thereby diminishing our ability to control how we spend our time. Digital markers that can drive wellness interventions are still in the "infant stage" of development, as are interventions that leverage peer networks. However, the large amount of activity in the space is promising and it will be interesting to see what takes hold.
Image Credit: Tripp VR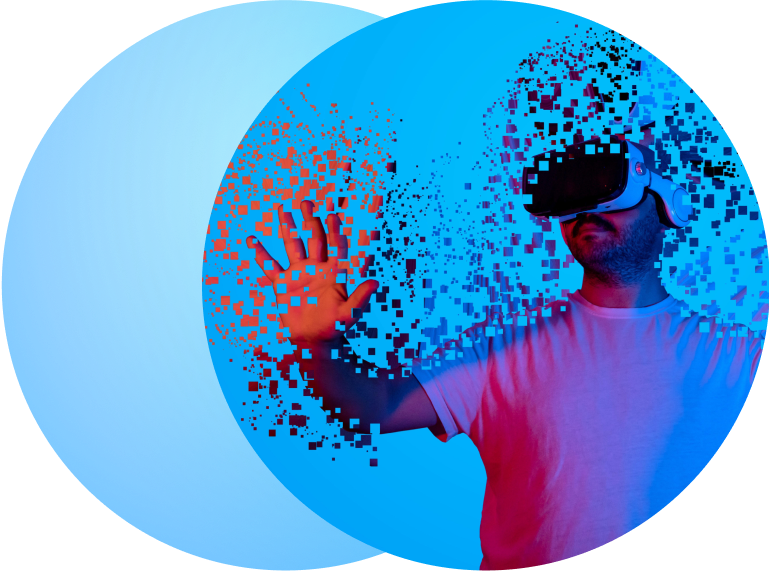 While public awareness and actions to protect safety online are growing, with the advent of web3 and the metaverse there will be new forms of dark patterns and dark participation that can leave youth more vulnerable than ever. For example, the absence of an accountable organization for any given web3 platform makes makes bad actors difficult to penalize. A variety of safety measures will be needed. Platforms that design for bystander interventions and peer communities of support offer a promising way forward to protect youth safety and security.
Image Credit: Adobe Stock
Understanding the journey
Young people's relationships to digital technologies are dynamic and multifaceted. Speaking with youth advocates and BIPOC creators helped us understand their relationship to the metaverse and web3, and how these technologies may appear or gain interest in their lives. These high-level journey maps summarize general pathways into each technology and the potential tradeoffs youth negotiate.
"Some members of Gen Z don't exactly attach to the metaverse right away because I think we have yet to be given the value add. It's another platform you can be with your friends on, and we already have very many versions of ourselves on social media. But the potential it has is huge. If the metaverse is a place in which you can have psychological safety, where there's social and emotional growth and there are platforms dedicated to that at every level of execution, when you ask me about my excitement, that's a 10 out of 10."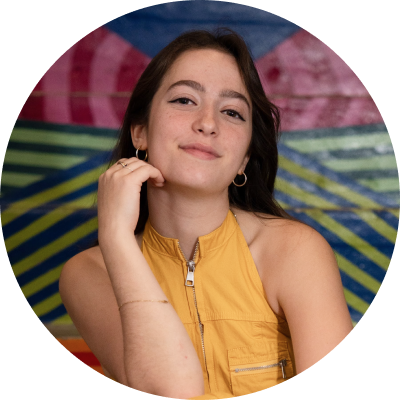 "At the end of the day, whether it's Instagram, TikTok, Twitter, LinkedIn, any of them really, you are supporting their platform. It's not your platform. We have to rely on them and hope the don't crash or end up being sold to someone that's going to change the algorithm in a way that all these people that follow me right now can no longer engage with me[…]This is a lot of work, especially when all of these platforms keep changing their technology, entry point and qualifiers."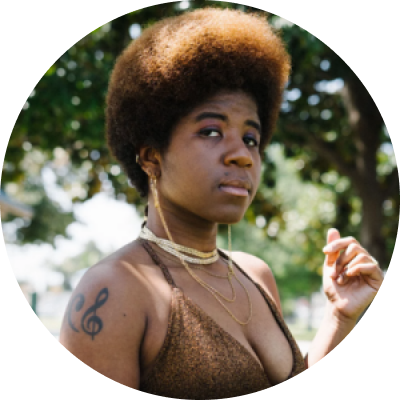 Through our research, we found six principles that were important to youth when creating interventions for a youth and wellness-centered web3 and metaverse. Each principle paired with multiple opportunity areas and interventions on which Hopelab and its partners can act.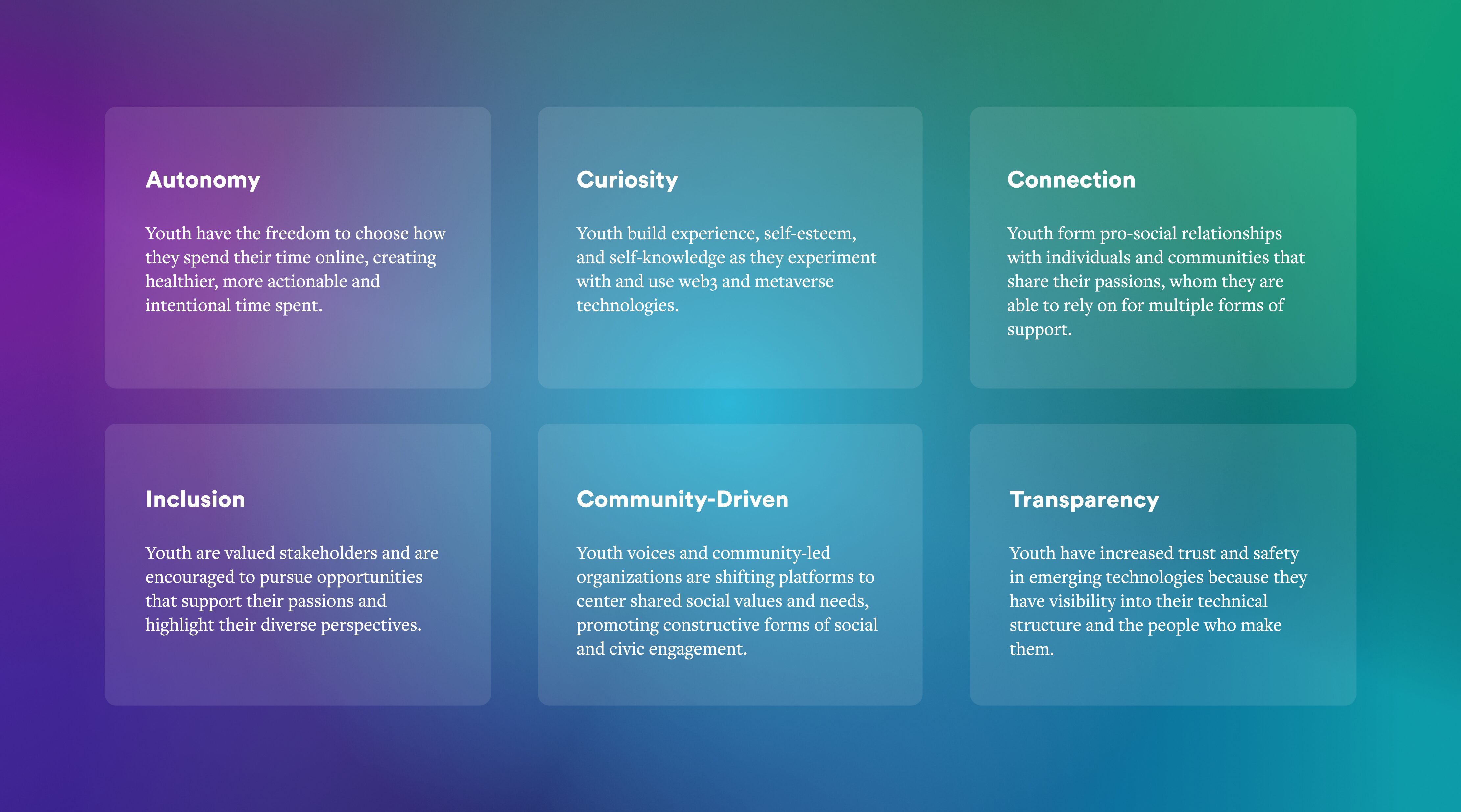 Youth are already showing us the way
Young people feel the impact of technology in their daily lives for better or worse. And they are willing and ready to express their viewpoints and enact change. There is a collective call towards a different future that supports their efforts towards autonomy, curiosity, and connection.
The current energy around the metaverse and web3 is exciting because, much like generative AI, the technology is still emerging, and there is room to shape conversations, actions, and decisions. These technologies will mature and be harder to influence in the coming years. Though diving into the early stages of development may seem overwhelming and ambiguous, it allows Hopelab and its partners to initiate positive change from the onset. We are excited about the work Hopelab is doing to support the next generation to establish a better, more healthy relationship with today's technologies and those coming in the near future.
Learn more about Hopelab by visiting the website and following it on LinkedIn.
"This is new tech. I think it's important for communities like ours to be loud and to reassure women and to encourage them to participate so that they don't miss out."