Helping children develop algorithmic literacy
A learning module
to get algorithm savvy
The Challenge
The pre-teen years are a whirlwind of development. Children begin to understand abstract concepts like causation and fairness, all while developing their own opinions and identity. It is also the period that most American children get their first smartphone or social media account and begin to engage independently with the Internet.
With the average American pre-teen consuming more than four and a half hours of screen media per day, it's crucial that this age group develop the critical analysis and Internet literacy needed to navigate the digital world responsibly.
The Outcome
The Most Likely Machine prototype is a digital learning experience that introduces pre-teens to important ideas around digital literacy, starting with the foundation of so much of our digital world: algorithms.
Designed for both individual exploration and to supplement classroom curriculum, the Most Likely Machine learning experience helps pre-teens understand algorithmic bias and recognize its impact, enabling them to grow into more conscious, savvy, and responsible consumers, creators, and digital citizens.
"This was a fun way to do something different during a Zoom class! It's better than just writing and studying on your own. I love that I can see everyone else's outcome and compare."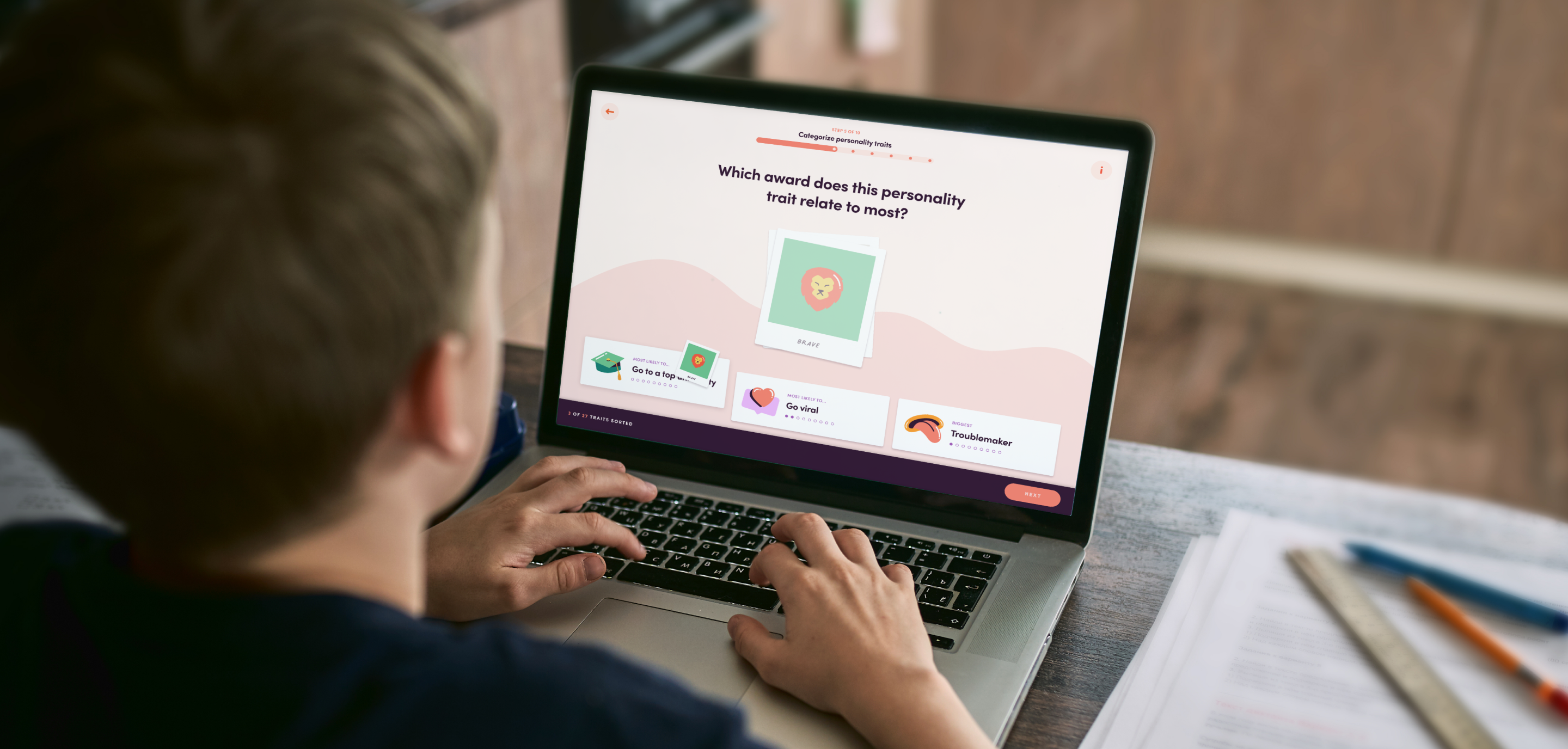 A new approach to algorithmic literacy
Algorithmic literacy is an essential skill that sits at the intersection of math, social studies, civics, and media literacy. While many pre-teens are taught the concept of algorithms as foolproof mathematical or computer science tools, we saw an opportunity to develop an experience that examines the ethics and justice of algorithms.
Inspired by resources from the MIT Media Lab, Pew Research Center, the Algorithm Literacy Project, and Common Sense Media, the Most Likely Machine prototype builds on robust research and curricula to teach pre-teens about algorithmic bias in a creative, meaningful, and fun digital experience.
"The Most Likely Machine feels really meaningful. As a teacher, I appreciate the nuances of the explanation on how algorithms work and their implications – it's all concise and easy to understand. The visual design and interactivity will be interesting
and engaging for kids."
Building a relatable, compelling world
The theme of yearbook superlative awards serves as a metaphor for the impact of algorithms. A familiar school activity, these awards are not so different from how algorithms categorize people in the real world. Superlatives also touch on concepts like personal identity, fairness, and choosing winners and losers that are central to the learning objectives around algorithmic bias.
The three awards (most likely to go to a top university, most likely to go viral, and biggest troublemaker) relate to where algorithms have significant real-world impact (education, media, and the criminal justice system), helping students recognize the wider impact of algorithms on their lives and community.
We then selected a cast of well-known historical characters to ensure students started the lesson with a set of assumptions that we could leverage to help them learn.
"We studied algorithms in school as reliable equations to help us find answers to problems. This lesson showed me how they are actually also opinionated. They have characteristics. I always considered them straightforward things."
Designing a sandbox for creative exploration
The Most Likely Machine experience is founded on a pedagogy of play: students start by exploring and creating, then reflecting on what they observed, and finally testing their assumptions by repeating the activity to see how different choices produce different algorithmic results.
As a sandbox experience, students are active participants in the world of the Most Likely Machine, unconsciously using their own opinion to create data sets for investigation. Each section of the module has a unique interaction model – like casting votes or sorting – that engages students in different ways and asks them to make their own decisions.
There is no right answer or solution to the activity, creating rich ground for reflection and discussion with teachers and classmates.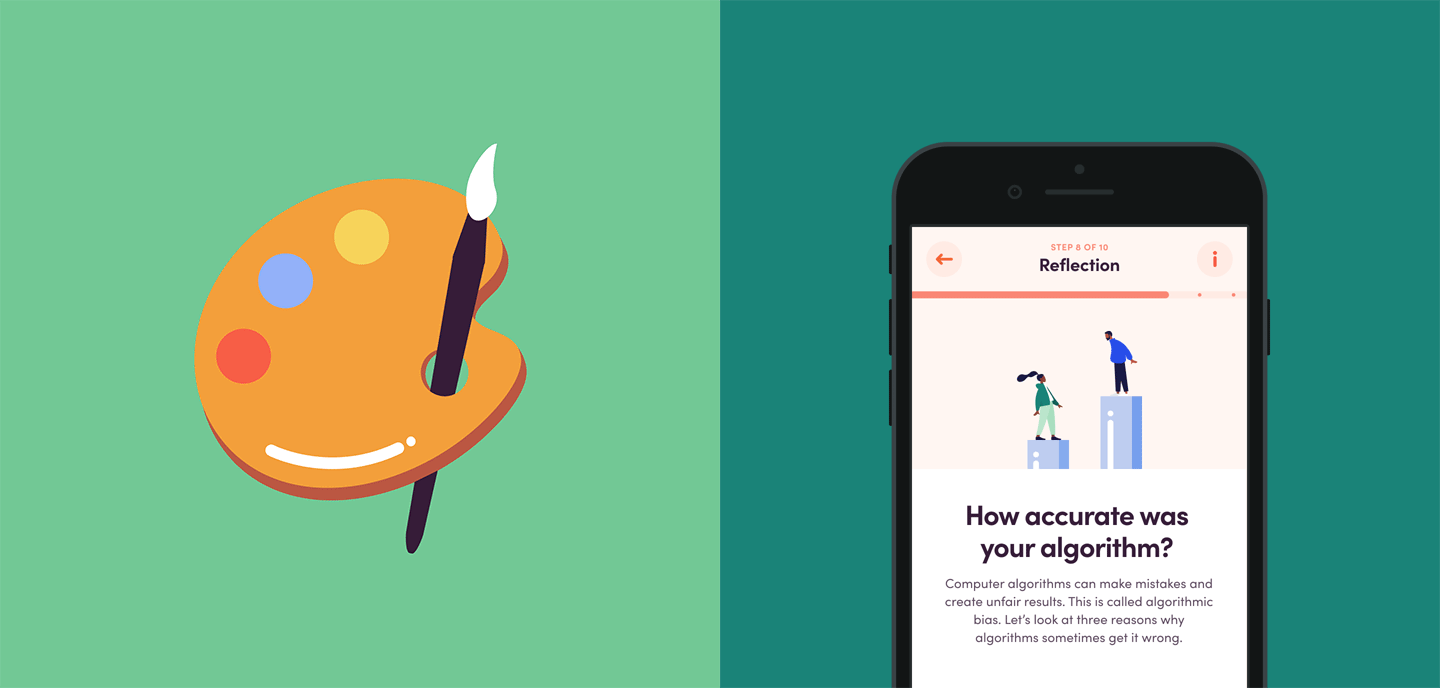 Using visuals to make the abstract tangible
Visual design has a powerful impact on learners' attention and ability to absorb information. The "old school cool" visual language sets the mood and brings abstract concepts like "time" to life. A warm, retro color palette plays with the idea of history and suggests how the past can influence the future.
Bright colors, graphic shapes, and modern yearbook motifs (like polaroid frames and handwritten flourishes) make dusty historic characters fresh and up to date. Inspired by popular social media stickers, we added bubble-like icons to each character trait that make concepts like "relentless" or "innovative" tangible and fun.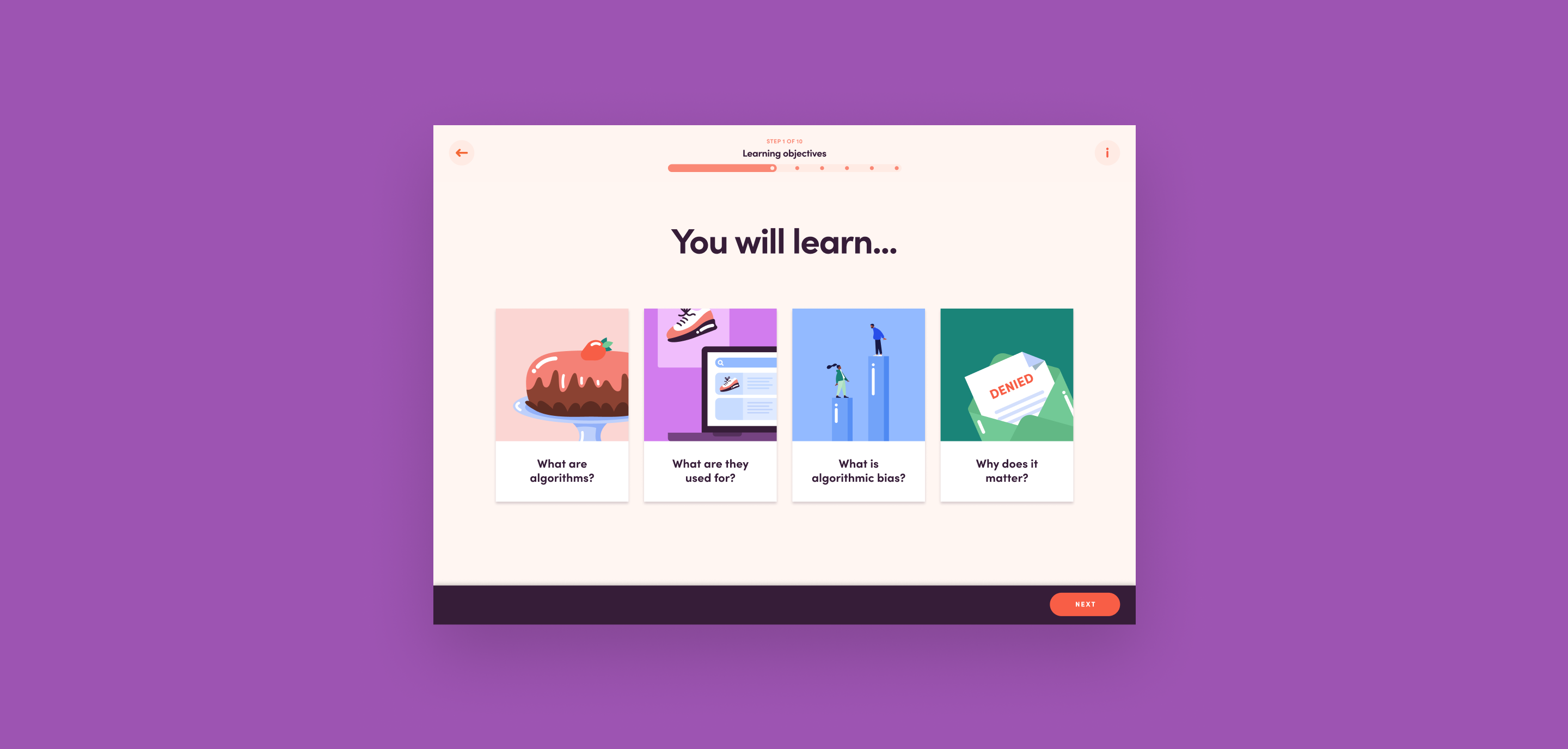 A flexible module for remote learning
Distance learning presents new challenges to communication, engagement, and attention span. We designed the Most Likely Machine prototype to both facilitate self-guided, independent exploration and supplement classroom curriculum.
The module-based approach empowers students to digest curriculum in bite-sized chunks and explore the experience on their own, before regrouping with their class for facilitated discussion with teachers.
As the world adapts to the realities of distance learning, we hope the Most Likely Machine prototype serves as inspiration and a step toward a future where digital learning experiences are not only engaging and meaningful, but support students and teachers as they navigate remote education.