Coordinating Board for Higher Education
Reimagining college and career advising
Shaping higher education for inclusivity and equity
The Challenge
Driven by the collective efforts of advisors, teachers, and trusted adults, holistic advising has proved effective for steering students, irrespective of their backgrounds, towards credentials of value. The Coordinating Board for Higher Education (i.e., The Coordinating Board) in one of the largest states in the country aspired to establish a holistic and equitable advising system for all Learners (e.g., students and returning adults). Consequently, they enlisted the help of Artefact to delve into the needs and experiences of Learners and Supporters (e.g., advisors, counselors, parents, teachers, friends, and mentors) to develop a way forward.
The Outcome
Our six-month collaboration resulted in a comprehensive and actionable 5-year strategy and roadmap grounded in Learner and Supporter insights. It includes plans to modernize the Coordinating Board's suite of digital advising tools, increase the availability of human support, and develop advisor effectiveness through training and capacity building. Since delivering the strategy, the state's Commissioner approved the roadmap, and the initial phase is currently under implementation.
Understanding a Fragmented Advising System from Multiple Perspectives
Designed to support students pursuing a degree or career, the advising system in this particular state spans over one thousand independent school districts and thirty-five public universities. Each educational institution's diverse population, bespoke resources, and graduation requirements lead to inconsistent access to quality advising across the state. We used a mixed-methods research approach, utilizing generative and evaluative methodologies to understand the current and ideal advising experiences of a diverse range of Learners and Supporters.
Our research process included conducting 60-minute, one-on-one qualitative interviews, an in-depth technology assessment of twelve of the Coordinating Board's tools, and 90-minute co-creation sessions with Learners and Supporters.
Learners Navigate College and Career Pathways Differently
We analyzed our findings and identified six broad categorizations of Learners and Supporters in the state. Learners fall into three common categories based on their mindsets, behaviors, challenges, and needs.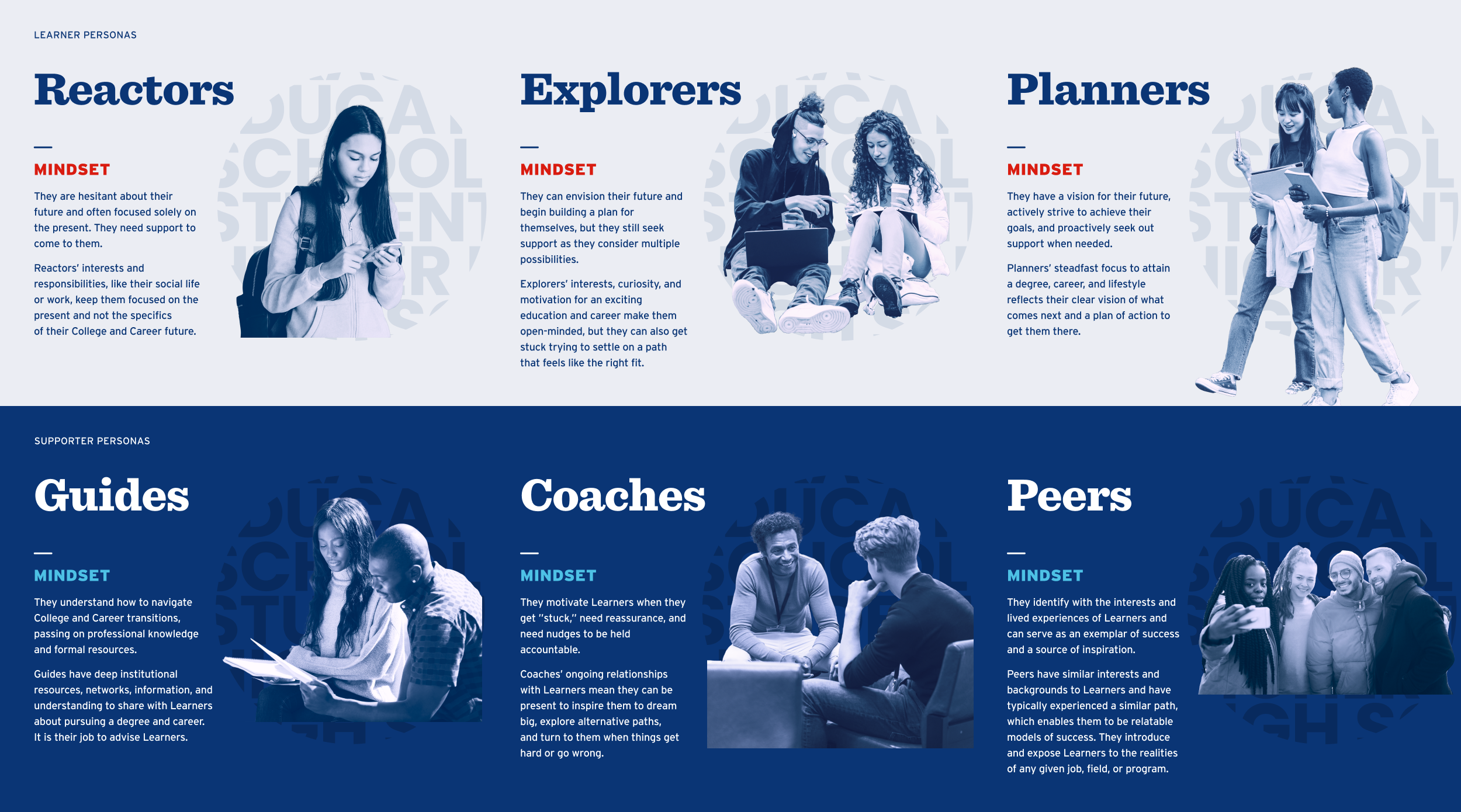 Reactors are hesitant about their future and often focused solely on the present. They need support to come to them. Explorers can envision the future and begin building a plan for themselves, but they still seek support as they consider multiple possibilities. Planners have a vision for their future, actively strive to achieve their goals, and proactively seek out support when needed.
"Honestly, I wasn't really thinking about college until the minute we graduated."

– Eduardo, Student, Reactor
Learners seek and receive support from all types of Supporters. Guides understand how to navigate college and career transitions, passing along professional knowledge and formal resources. Coaches motivate Learners when they get "stuck," need reassurance, and require nudges to be held accountable. Peers identify with the interests and lived experiences of Learners and can serve as an exemplar of success and a source of inspiration.
"There's information everywhere and I don't have time to crunch all the data!"
While each type of Learner navigates college and career in their own way, they each experience their non-linear educational journey in phases. These phases — Dream, Explore, Deliberate, Pursue, and Acclimate represent the actions Learners take to transition from one environment to another.
Developing a Vision for the Future of Advising
Conversations with Learners and Supporters helped us understand that the current advising system is episodic, fractured, inconsistent, and impersonal. To realize a vision for the future of advising the state, a modern advising system would need to continuously work with Learners and Supporters through a coordinated effort that would be consistent and compassionate. This insight formed the basis of the north star vision and theory of change.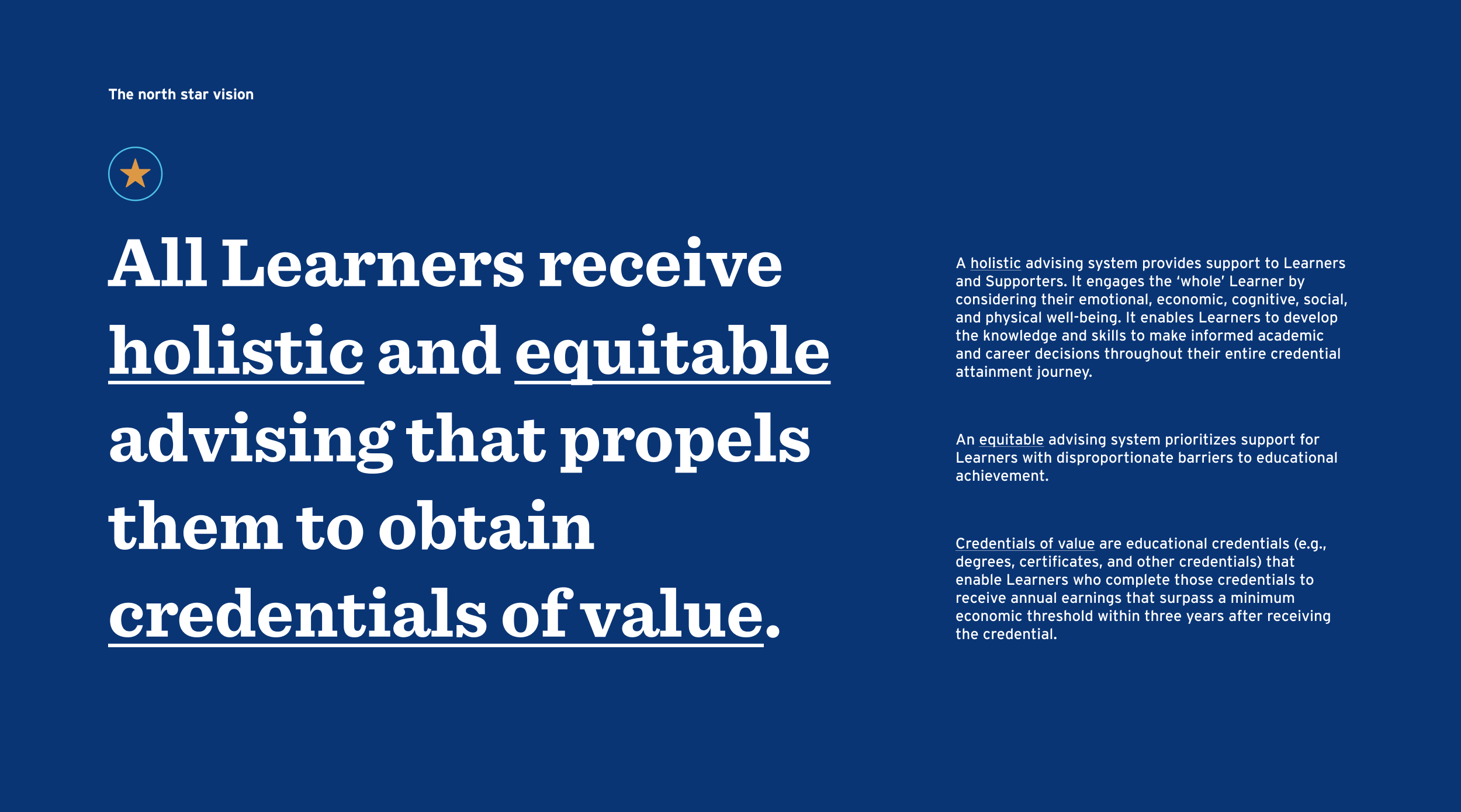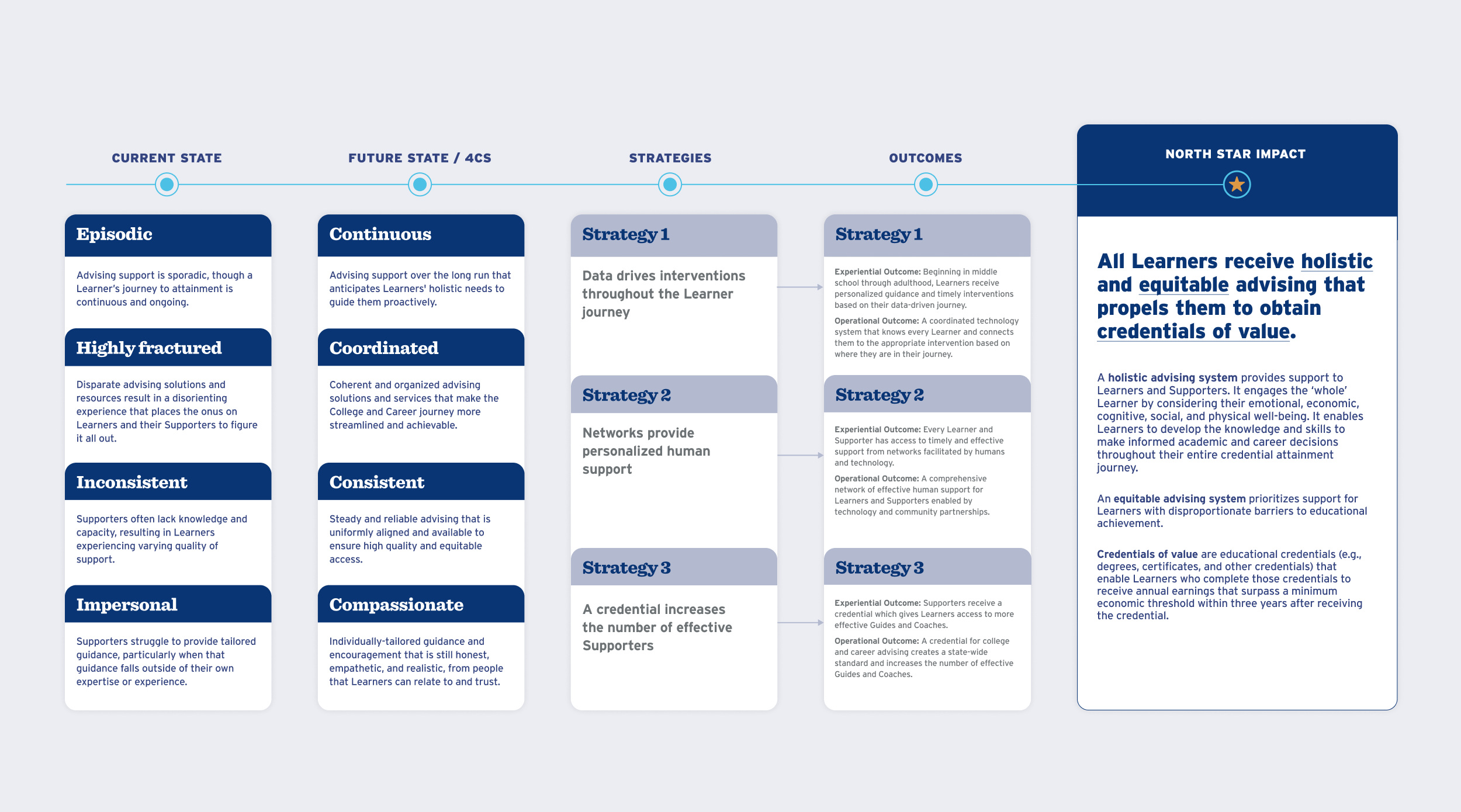 Through a series of workshops with the Coordinating Board and its partners, we used a theory of change framework to draft the key strategies and actions required to realize the north star vision that would occur over a 5-year period. The strategies aim to develop a data and technology infrastructure to create a personalized advising experience, leverage a network of partners to scale high-impact interventions across the state and democratize the role of advising to increase the number of effective Supporters.
"I feel fortunate that I have people to encourage me on my journey to go back to school."
We started this program by asking, "How might we create an ideal advising experience?" After speaking with Learners and Supporters from all backgrounds, we found an open landscape where students could explore any future they might dream of, and a curated set of tools and resources to help them along the way. The Coordinating Board is dedicated to creating a holistic and equitable advising system, one with a modern technology infrastructure and human Supporters credentialed to provide effective guidance. With the leadership of the Coordinating Board and the state's Commissioner, we are hopeful for a future where educational advising works for all, one student and one credential at a time.