Omidyar Network:
The Ethical Explorer Pack
Tools to navigate ethics in technology
Helping technologists chart the future impact of their work
The Challenge
Evolve philanthropic venture capital firm Omidyar Network's ethical design resource into an impactful and accessible toolkit that encourages teams to question and address the implications of their products on people and society.
The Outcome
The Ethical Explorer Pack: a physical and digital toolkit to pioneer a new standard for building tech that's safer, healthier, fairer, and more inclusive for all. Its inviting narrative and lightweight physicality keeps it on-hand and front-of-mind during important discussions.
"Artefact was the ideal partner to bring our vision to life in the Ethical Explorer Pack. The team provided thought and care every step of the way, with excellent communication and beautiful final output."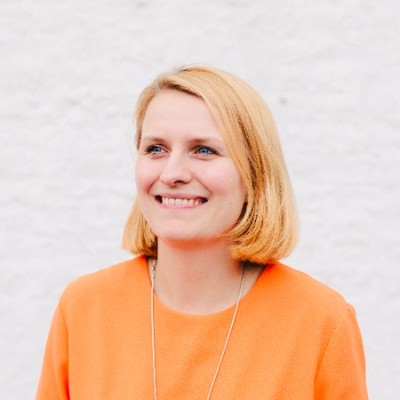 An approachable, actionable guide
Omidyar Network works to ensure that technology is a force for good in our communities.
They launched the EthicalOS design resource in collaboration with the Institute for the Future (IFTF) to encourage technologists across the industry to think through the risk areas and consequences of the products they create.
We partnered with Omidyar Network to transform the EthicalOS document into a refined, relevant, and accessible toolkit that technology designers are excited to engage with and promote throughout the product development process.
Who is the Ethical Explorer?
The Ethical Explorer brand represents those in a technology organization who want to serve and support ethical values in design, foster an inquisitive culture, and ignite positive change through dialogue.
Generating awareness and conversation around tech ethics among peers is not easy. It can sometimes feel like an uphill battle, full-time job, and unchartered territory all rolled into one.
Championing this work takes continuous commitment and exploration. Thus, the Ethical Explorer was created.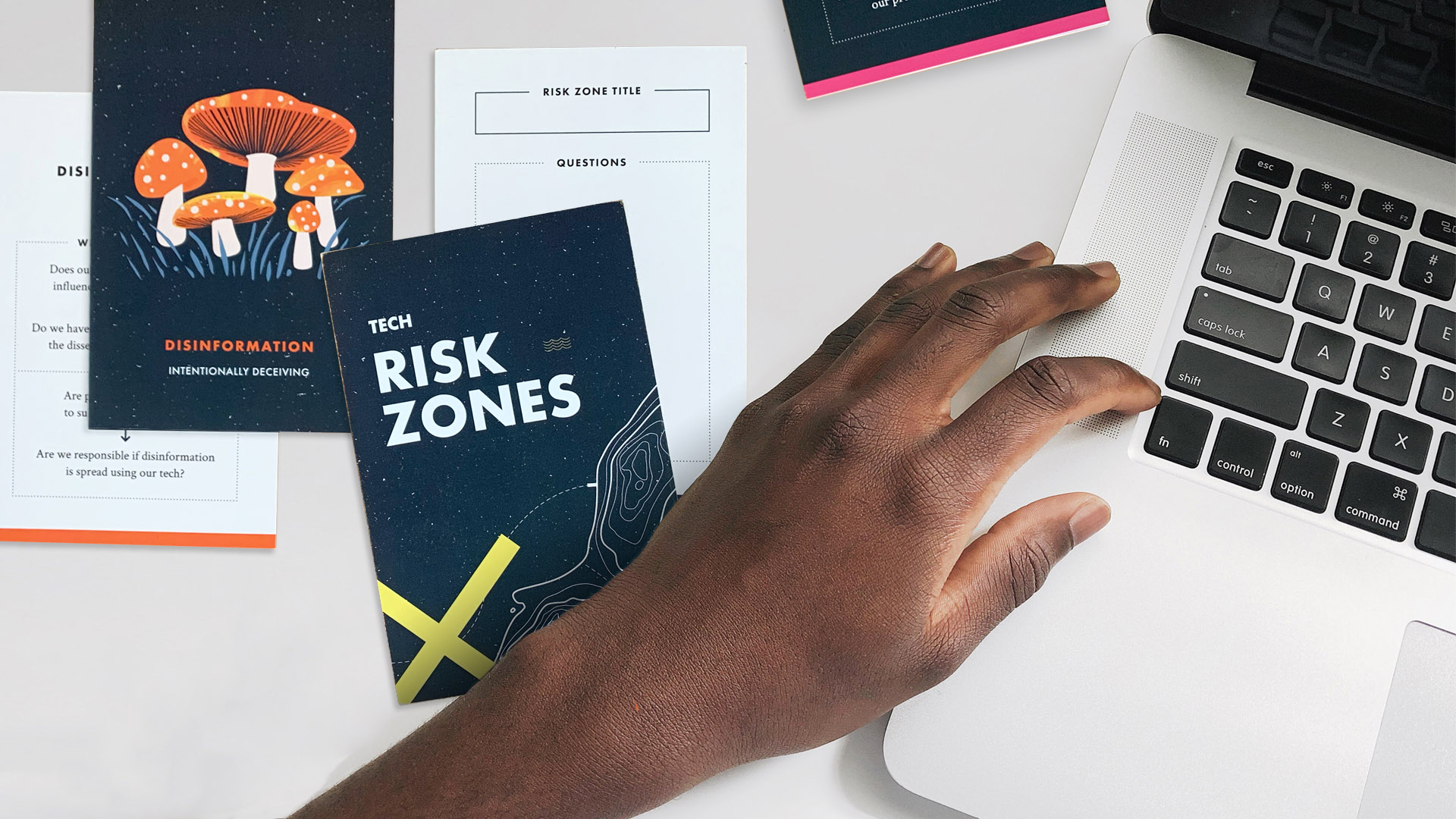 Mapping the ethical risks in technology
The Ethical Explorer Pack centers around eight Tech Risk Zones such as algorithmic bias, bad actors, and disinformation.
Each zone features a unique illustration that expresses unforeseen danger and potential challenges Explorers might encounter in the wild. The color of each Risk Zone is intentionally vibrant to represent danger and command attention.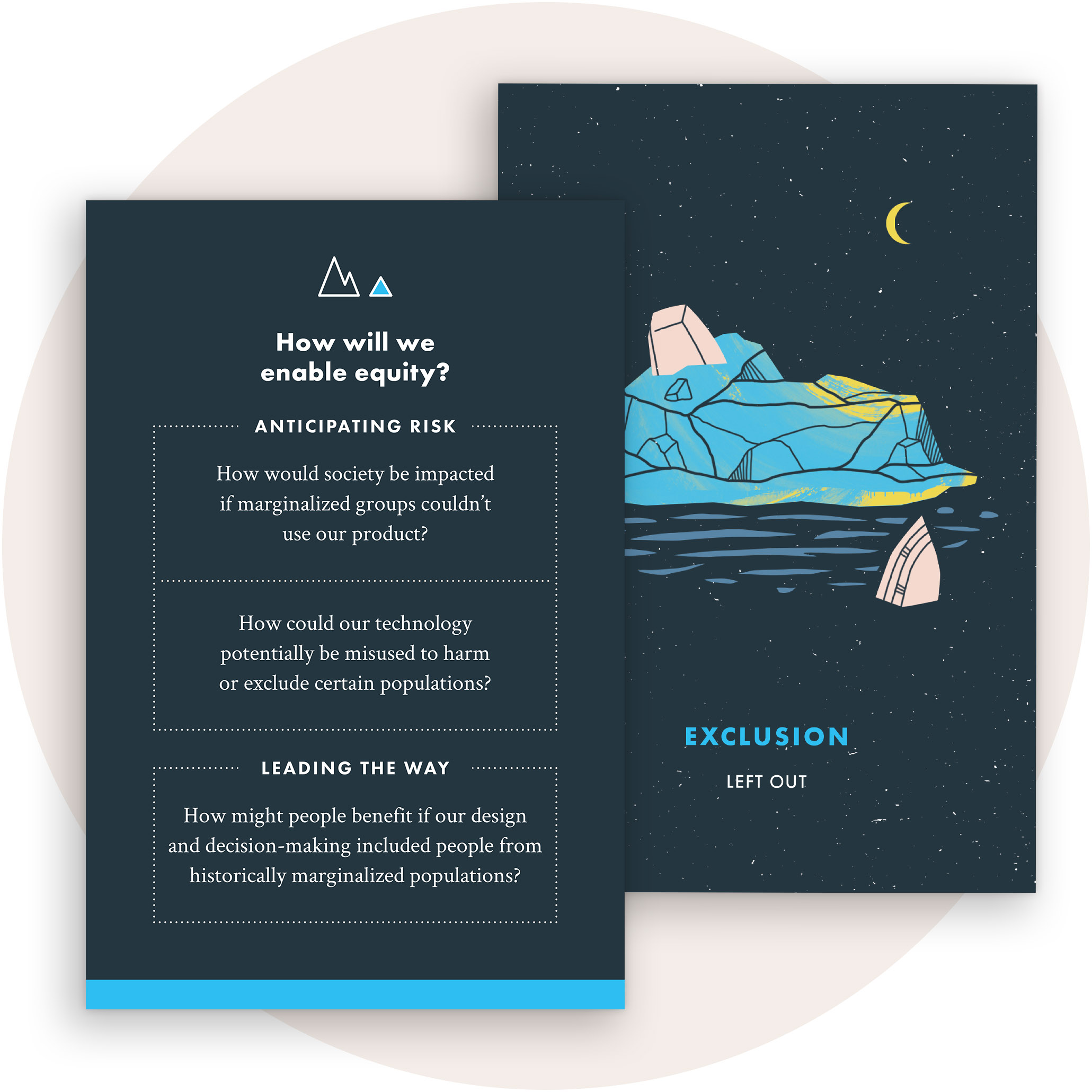 The Risk Zone Cards

The Risk Zone cards provoke thoughtful conversation around responsibility and impact, no matter where you are in a product's lifecycle.

Each card has three types of questions to help teams figure out where they stand, anticipate risk, or lead the way when it comes to radical change.
The Field Guide

Complementing the Risk Zone cards, the Field Guide suggests five different activities to help both individuals and groups start their journey toward more ethical technology and gain buy-in within their organizations. Explore as a group to build habits moving forward, or reflect and challenge past decisions on your own.

Unique stickers let Explorers show off their passion and advocacy for ethical, inclusive, and safe technology.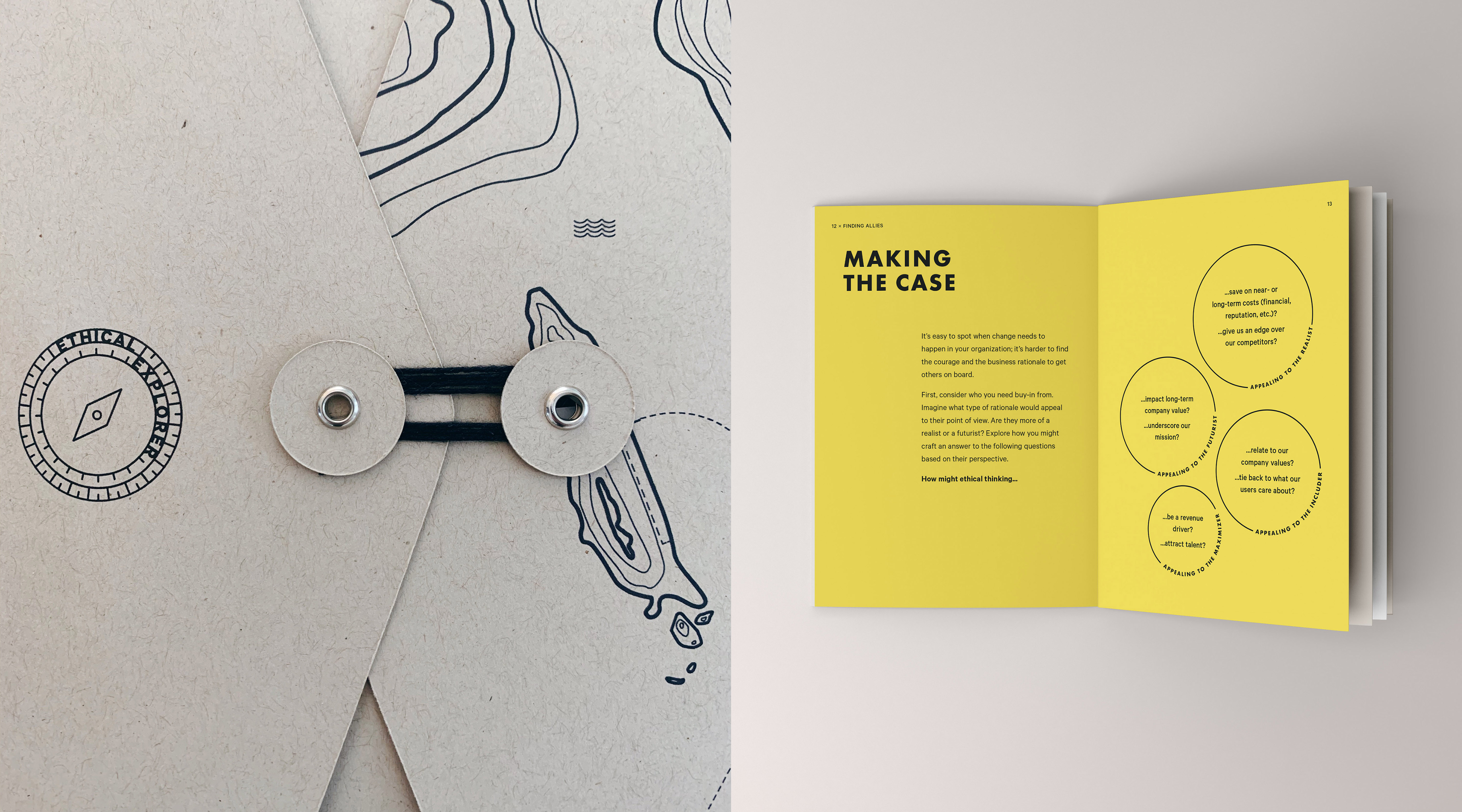 Equipping designers for the road ahead
We created the Ethical Explorer Pack as a starting point. Designed to not only help technologists find their "moral compass," it also encourages them to advocate for a responsible movement in technology – one that's grounded in asking questions, challenging norms, and creating a future where tech products are built with responsibility at the core.
What we delivered
+ Generative research
+ Foresight
+ Concept envisioning
+ Strategic assessment
+ Capacity building
In the news