A dashboard for success in education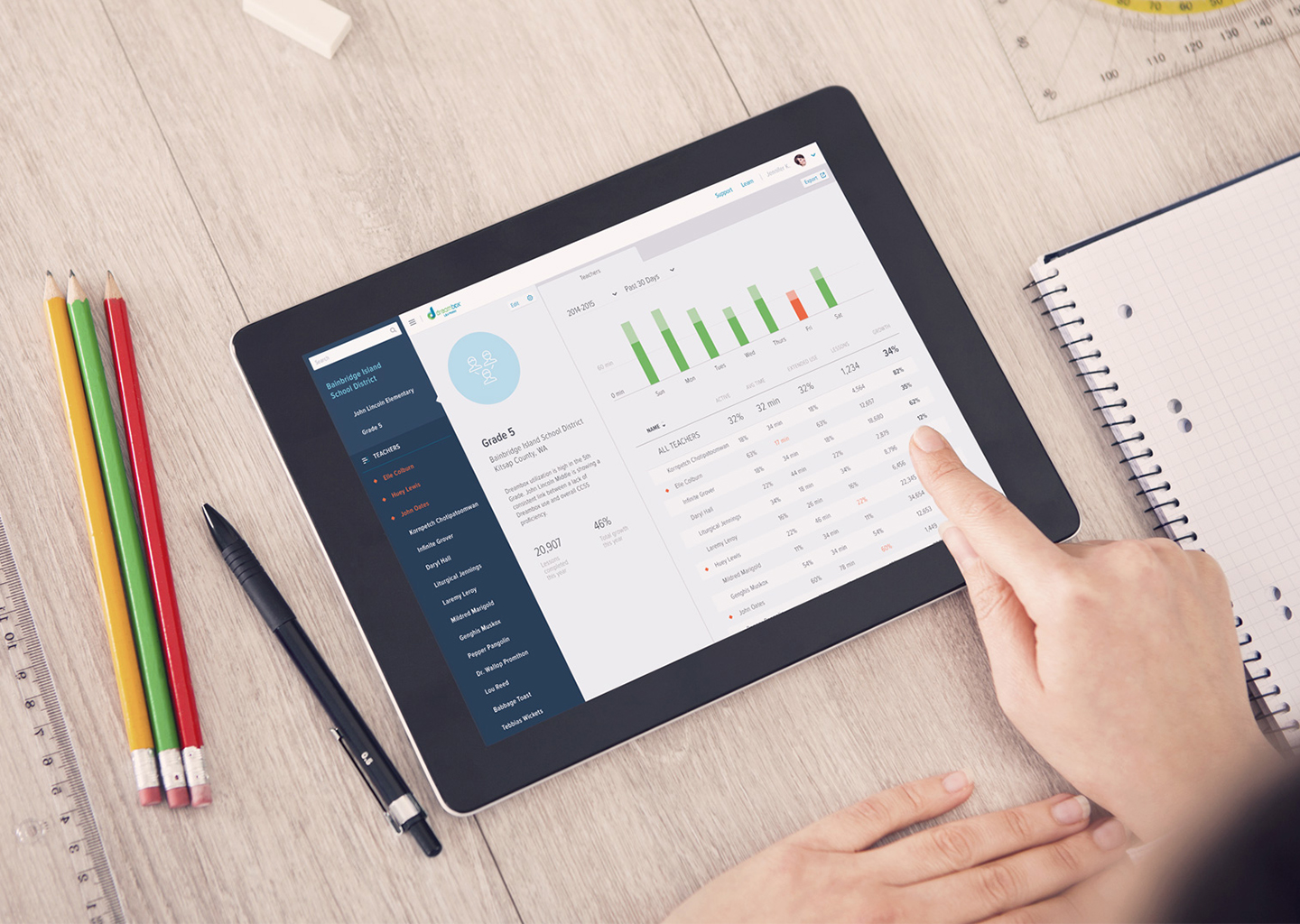 Turning data into insights that improve learning outcomes.
One of the most promising applications of edtech is the ability to generate and analyze data, which empowers a deeper understanding of how students learn. By obtaining individual insights and developing a more personalized learning experience for students, teachers can be empowered with the data needed to differentiate instruction for all students, transforming the way students learn math.

This is the mission of DreamBox Learning® Math. Its Intelligent Adaptive Learning platform uses formative data embedded within and between lessons to tailor lessons for each individual student and motivating them using game-based strategies and engaging behavioral nudges that get students excited about math.

The platform analyzes 48,000 data points per hour, per student. To fully utilize the rich and deep data, the company wanted to move beyond spreadsheet reports and deliver easy to interpret, actionable insights that are relevant for each type of user. Recognizing the complexity of the challenge, DreamBox Learning sought a partner whose design and development expertise could help bring their vision of personalized learning to life.



Relevant, Actionable, and Easy to Interpret Data
Artefact partnered with DreamBox Learning Math to create their new Insights Dashboard, an intuitive, actionable application that features nearly real-time data visualizations that allow educators to turn data into insights.

With easy-to-read progress reports, a simple and clear information architecture that supports the different needs of different users, and a rich set of instant monitoring and notification tools, the dashboard has been redesigned to help educators better understand and implement insights about student learning.

The Insights Dashboard helps teachers and administrators make confident, personalized decisions about how, and when, they connect with students.
Architecting complexity
The ability to use one massive data set to tell unique stories to multiple users creates an interesting design challenge. We built a navigation structure that creates a common experience across a range of scenarios. The navigation of the new Insights Dashboard allows the platform to show contextually appropriate views of the same data, making it easy for DreamBox users to access the information most relevant to them. A school administrator can see data across the district, school, and class levels together, whereas a principal's view is focused only on their school and classrooms. Teachers see classroom and student data, and can make in-the-moment decisions about whether to stay the course or pivot to accelerate, differentiate, or remediate instruction.
"With a human-centered approach to technology at their core and a passion for education technology to match, Artefact was the natural partner for DreamBox Learning."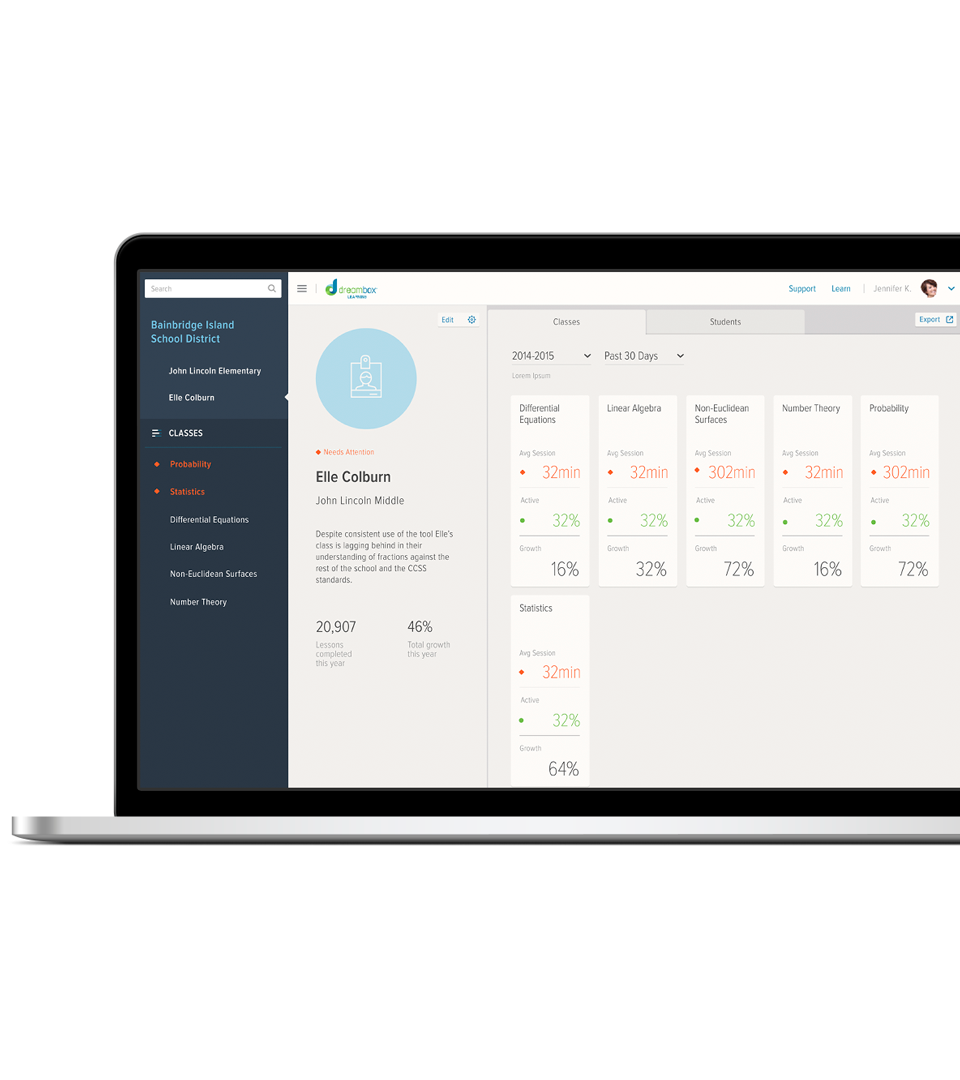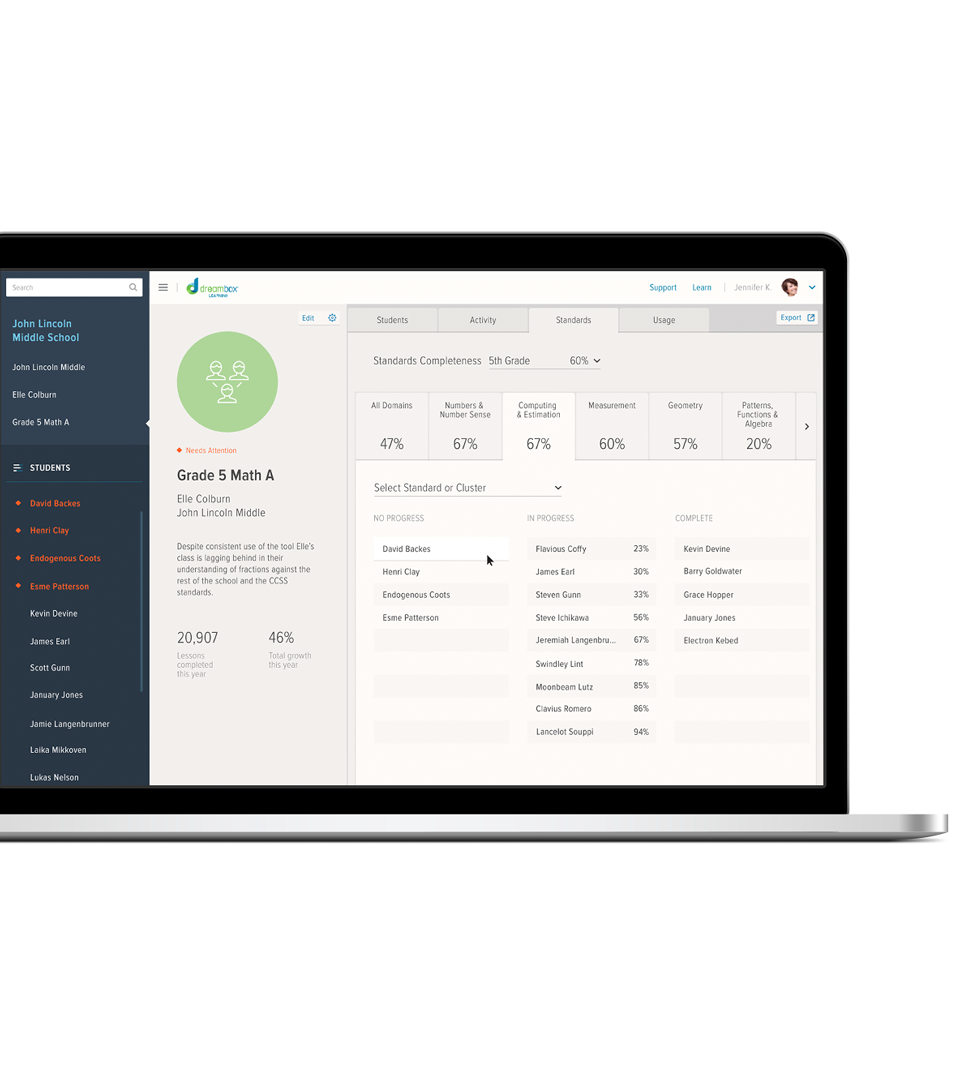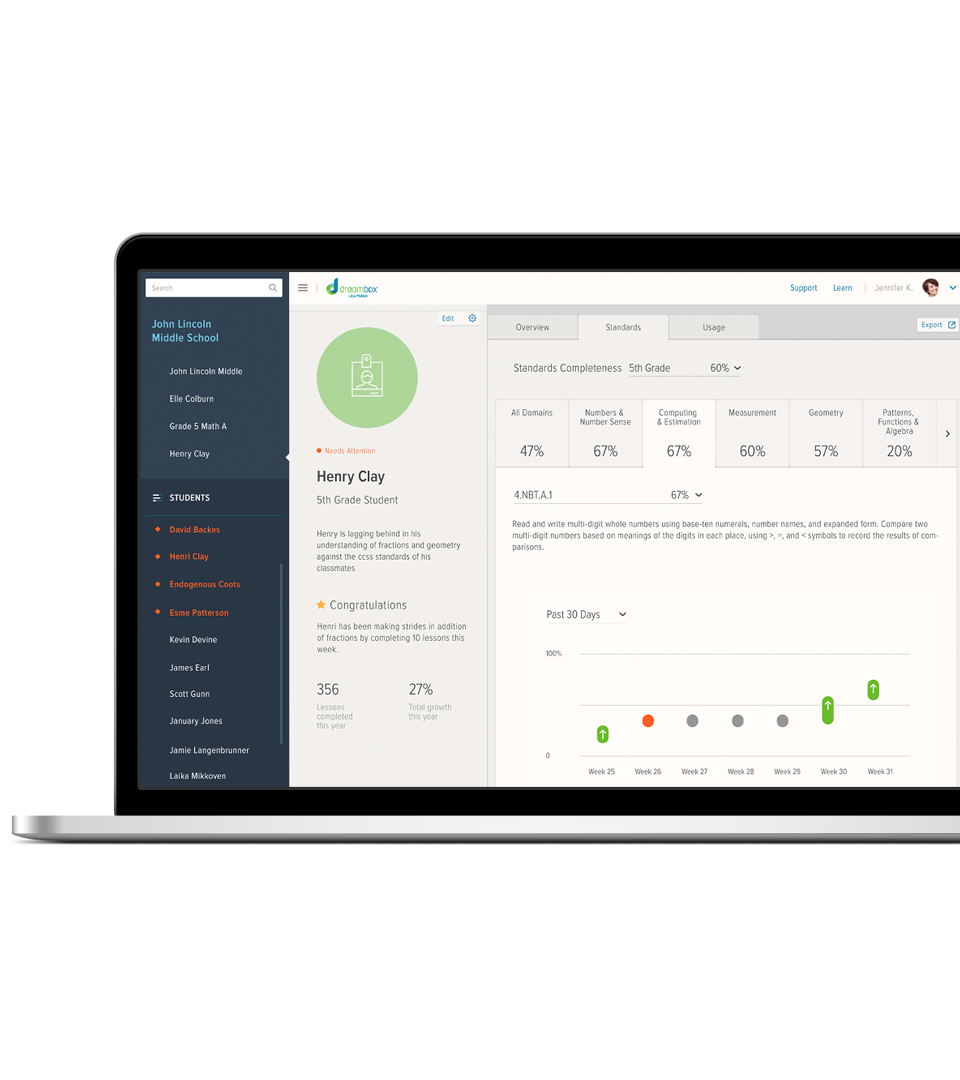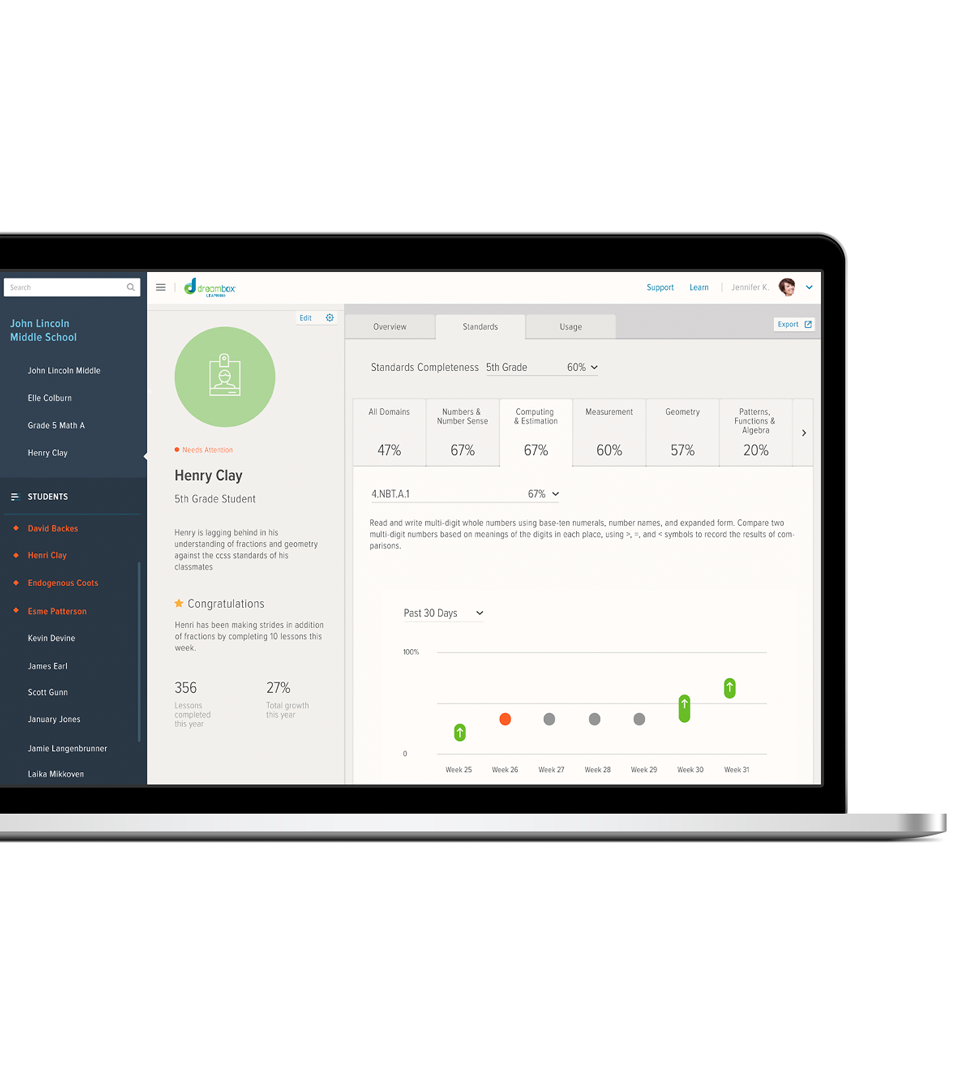 From big data to meaningful data
Most reporting systems are all about data intensity—cramming as many numbers and metrics into a platform as possible. But all of that information is meaningless without the ability to hone in and illuminate it in actionable ways. We designed interactive report building blocks to produce relevant and meaningful insights. Easily customized visualizations allow for quick data exploration and targeted decision-making. For example, the new visualizations make it easy for teachers to track and compare student progress across the curriculum, helping identify where to provide guidance and when to celebrate success.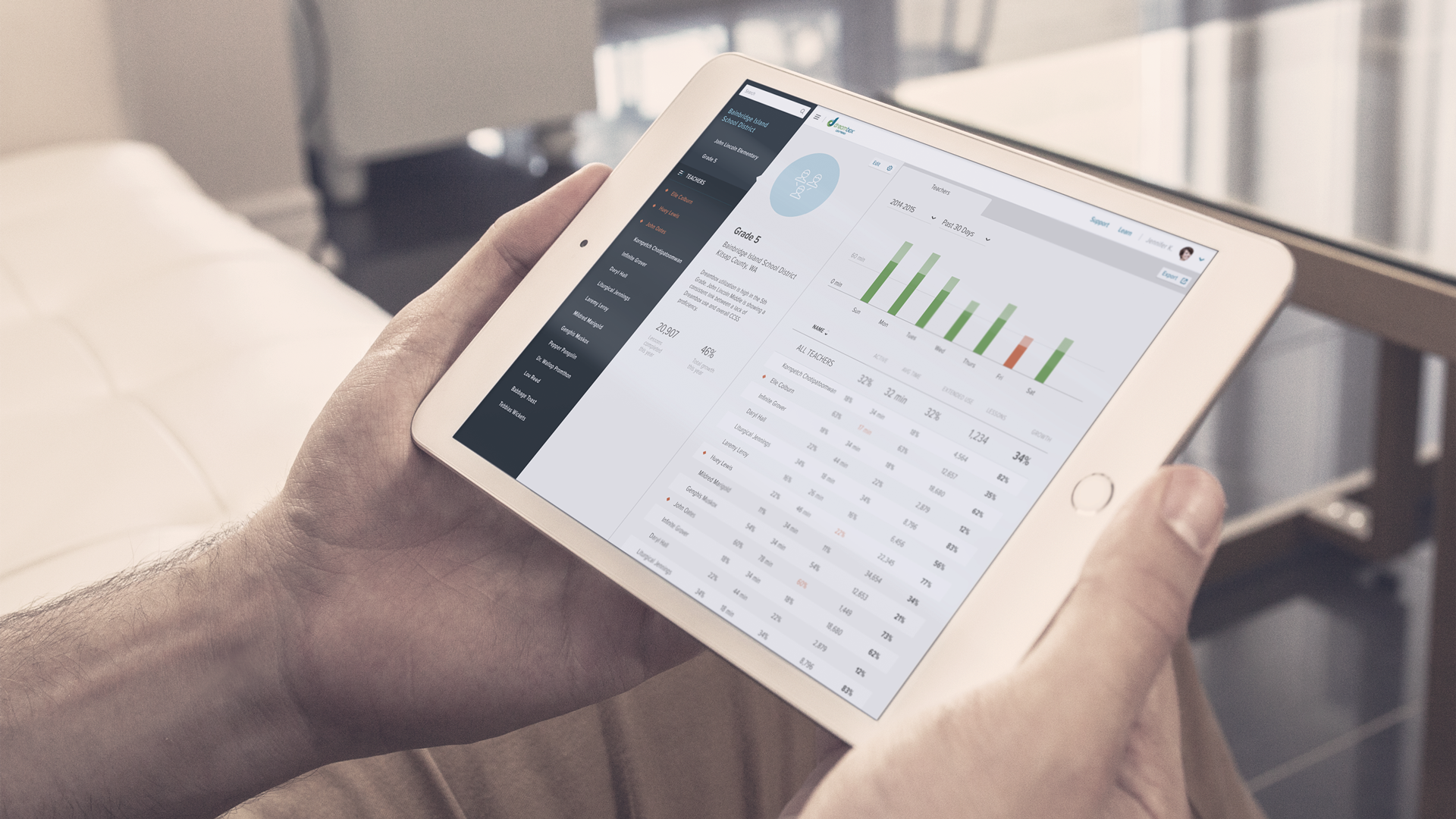 More time to engage students
Adding more technology to classrooms does not solve one of the biggest problems educators still face: they are pressed for time and supplying personalized attention to all students is nearly impossible. To make it easier for educators to track student performance in real time, we designed monitoring and notification features that align with educators' goals. As a result, teachers are able to differentiate instruction early and often.
What we delivered
+ Generative research
+ Foresight
+ Concept envisioning
+ Experience design
+ Evaluative research
Behavior Change
Strategy Cards